Summer 2007.
~mike gradziel.
to the index page
---
Until two weeks ago, I considered giant yellow slugs as big as sausages to be creatures of fiction. Then I went walking with Joy and Hsun-Tzu and Doug in a redwood forest and saw two of these slimy animals making their way among the fallen leaves. This just proves the obvious: that alien life forms could already be among us, unbeknownst to my sheltered knowledge of the animal kingdom. I was up north again to visit Doug and of course Joy and to have a look around Stanford University, in particular Paul's lab of quasi-alien walking robotic animals made of machined aluminum. In the lab next door, they're making mechanical geckos. Giant yellow slugs can climb walls just like geckos, but they are decidedly un-mechanical with no distinct moving parts so for the moment I envision keeping any future research I might do at Stanford confined to machines resembling more traditional walking creatures.
October 2007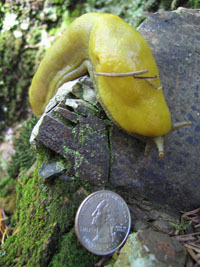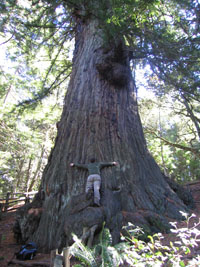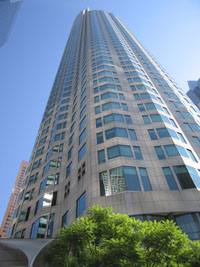 ---
Angel Island is in a perfect position for defending San Francisco Bay. It also proved suitable many years ago for immigration and quarantine, and last weekend it was perfect for Joy's company picnic. We took a ferry out under cover of fog that made Alcatraz seem sinister and gloomy as we passed, but the sun emerged by the time we arrived at Angel Island, ate a big meal, and rented bicycles to ride around the island. Naturally, the island has fantastic views of the city, the bay, Berkeley, Tiburon, and the Golden Gate. Here are some pictures:
September 2007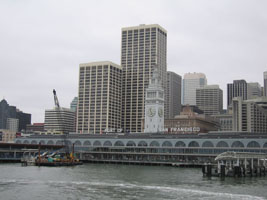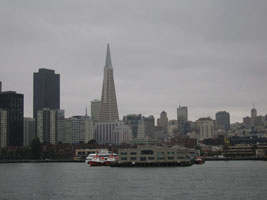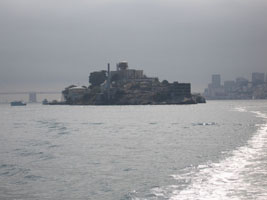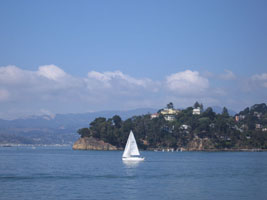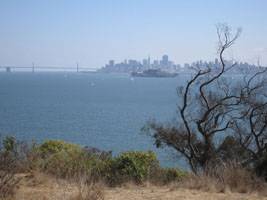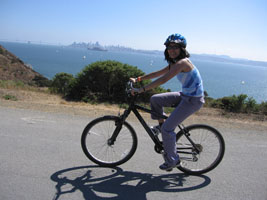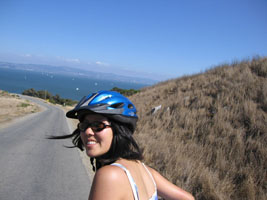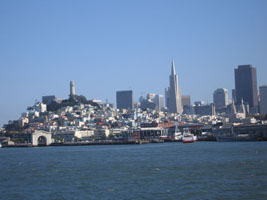 ---
Before temperatures soared to over a hundred degrees in Pasadena, Joy and I departed by early morning ferry bound for Catalina Island. The picturesque village of Avalon was teeming with weekend visitors, many of them crowding into breakfast cafes or staking claims on the beach. We picked up hiking permits and hurried inland, eager to ascend to a clifftop western viewpoint three miles distant, but right away it became clear that the cool air at the coast did not extend far into the hills. After two miles the idea of snorkeling became more favorable than the idea of climbing to a western view and we turned back, content to enjoy a beautiful eastern panorama of brown hills, blue water, and towering thunderclouds that had formed over the San Bernardino mountains on the mainland. Back down in Avalon we stowed our packs in lockers and waded into the sea to pursue schools of orange and blue fish through the kelp. But there I suffered the opposite extreme: without a wesuit, ten minutes in the swaying kelp was all I could enjoy. Having restored balance between hot and cold, we retreated to the waterfront to eat ice cream cones and read and watch the sun sink low.
September 2007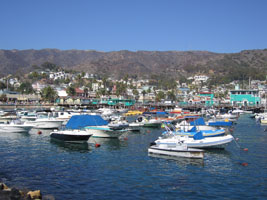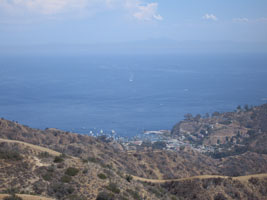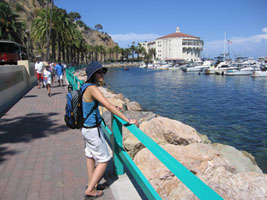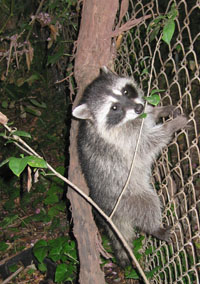 ---
Last time in San Francisco we went to a tiki bar cleverly disguised in an unassuming hotel, complete with a 50-foot long pool of water on which the band floated in a boat with a thatched roof, and into which periodid thunder storms poured rain accompanied by flashes of light and rumbles of thunder from speakers throughout the room. The masts and rails of an authentic wooden sailing ship from the 1800s framed the dance floor, and our drinks arrived in tribal pots which we huddled around with slender straws eighteen inches long, drinking together. This time my visit was a little more tame: I visited Tom & Pat, for the first time in eleven years, to visit and introduce Joy and learn all about the fruit trees that Tom is working on at his orchards in Davis. There at the university all sorts of new fruits are being coaxed from the offspring of trees grown in distant corners of the planet. Later, we drove to Joy's parents' house and traded some peaches and figs for yellow beans and zucchini.
August 2007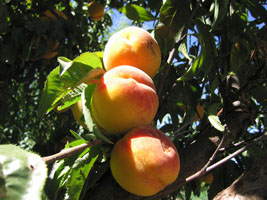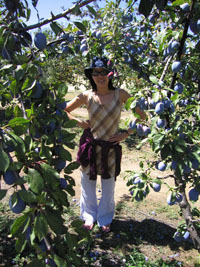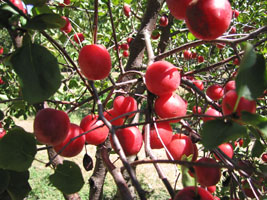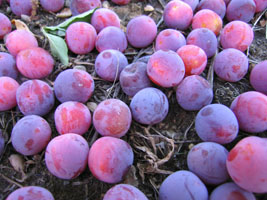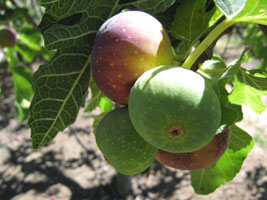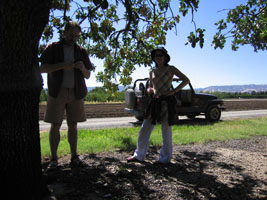 ---
I made fresh guacamole on the curiously smooth grassy lawn of the Getty Center gardens while the first concert of the summer music series was starting and the sun was sinking behind hills to the west. Once the avocadoes were sliced and the onion and tomatoes were chopped I suddenly noticed the paths of young children veering closer to our blanket. A toddler lurched up and almost toppled into the bag of chips. The parents seemed attracted too; I squeezed a lemon and sprinkled cayenne pepper into the mix and set out our snacks. Then the music started and the lawn became crowded and darkness fell and we moved up to a terrace by one of the stages. Inside the main lobby, an artist had created a colossal sculpture that looked like something you'd find in pond water, enlarged a million times. It played organ music, deep belching tones powered by air pressure. On Wednesday I flew to Boulder, Colorado for the last big meeting at our subcontractor there. I visited Grandma and Grandpa and Pat & Jeff, and thoroughly enjoyed watching thunderstorms. Not having weather in Los Angeles seems to me sort of like living in a world without music. Then, without warning, it rained this morning in Pasadena.
July 2007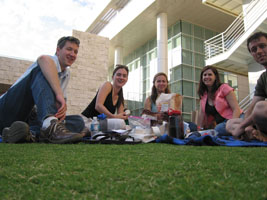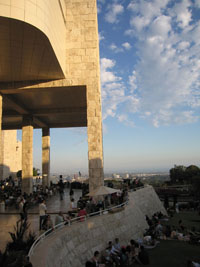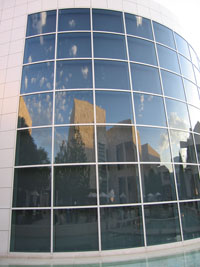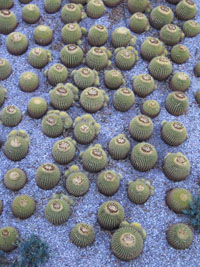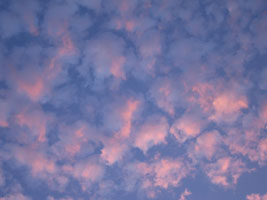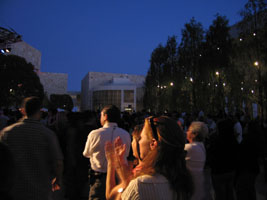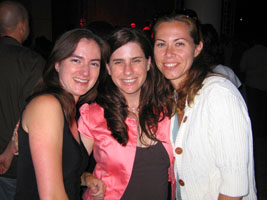 ---
Our salmon was caught at the surface off Salt Point. The fisherman hefted one of his smallest fish, a nine-pounder, out of the icebox and onto a scale on his boat at Half Moon Bay. For $20 we had food for days! Joy and I stocked up on vegetables at the farmers market, then set out to fillet the fish (harder than I thought it would be) and prepare a variety of fish dishes for lunch and dinner. Later, at the ceramics studio, I learned how to throw clay bowls. Turning clay is so different from turning metal or wood - it bends around your hand and tools and behaves in its own way. Sunday we watched elephant seals sleep at Ano Nuevo beach. Like giant garden slugs, the tubular dark creatures strewn on the beach weren't the prettiest animals around but they were comical nonetheless, snoozing upside down in lapping waves indifferent to the water rushing over them. At lengths of twelve feet, the giants are mostly fearless and don't mind visitors peering from cordoned pathways nearby. Offshore, at the abandoned lighthouse keeper's home, sea lions and birds have moved in and have made themselves comfortable in the hallways and bedrooms. I saw a photo of the domesticated sea creatures comically peering out from their house.
July 2007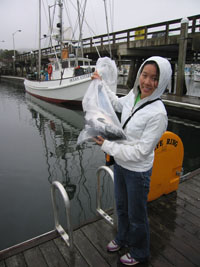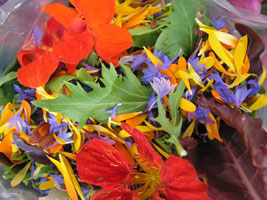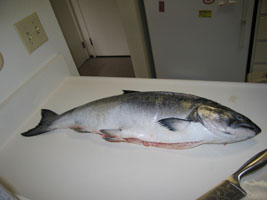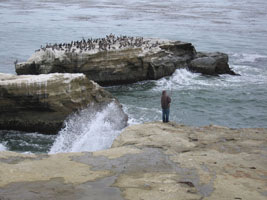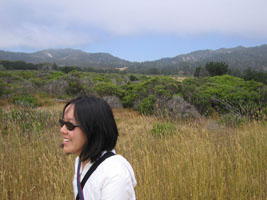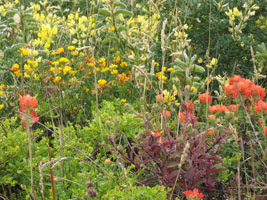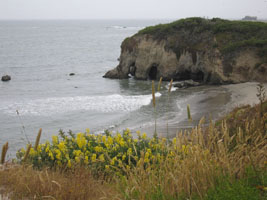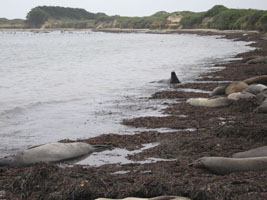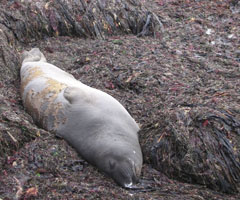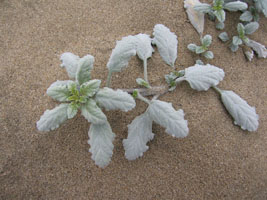 ---
Eight pounds of fresh berries are stacked in my refrigerator, even after Joy took four pounds home and we ate several pounds more. Berry picking only comes around once a year, so there's reason for excess. No store sells strawberries red and juicy all the way through - they bruise far too easily for commercial transport. And at one fifth or less of the grocer's price, pick-your-own can sustain berry fantasies like fistfuls of berries eaten in single gulps, half-and-half cereal and berries at breakfast, or dinner plate sized crepes hot off the skillet packed with dollops of vanilla-scented whipped cream and loaded with raspberries, blueberries, blackberries, and slivers of strawberry. We ate these things this weekend as well as delectable pieces of tender juicy piglet, who was barbecued seaside over hot hardwood coals on Saturday afternoon. Relaxing in the sun at Dockweiler beach, I watched airplane after airplane take off from LAX and carve a swath through the wispy coastal clouds like a ski boat cutting a wake. Tendrils of cloud torn apart by a vee-shaped bow wave then rushed backwards in the jet wake, curling in like the breakers churning foam on the sand. These empty blue trails through white clouds persisted for minutes, like roads plowed clear of a heavy snow. Some planes even made rainbows in the low sun as water vapor was condensed in the low pressure above their wings.
June 2007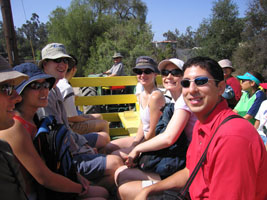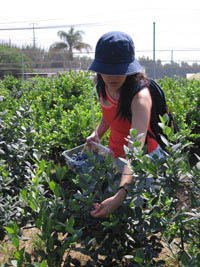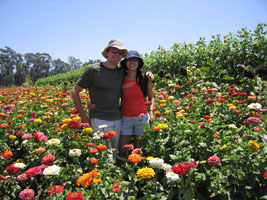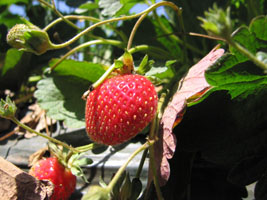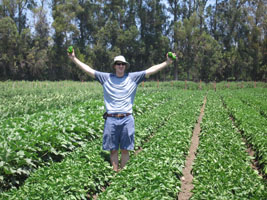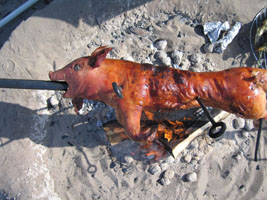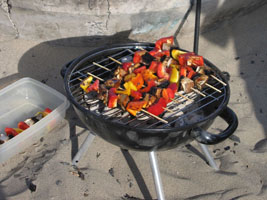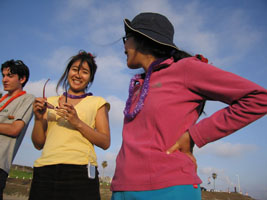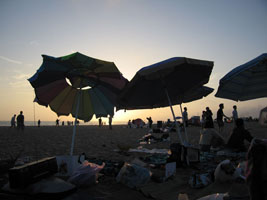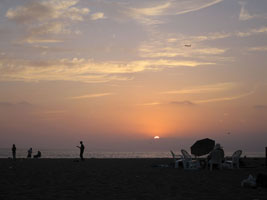 ---
Presented with the opportunity to see what lay behind the hulking mass of rock that blocks the splendid view north of Mt. Langley in the California Sierras, I happily accepted one of Stephanie's extra hiking permits and packed my pretzels and soup. Climbing to the top of Mount Whitney would be a fine way to spend a weekend. But a new regulation is in place this year: thousands of pounds of poo previously lifted from mountain camps by helicopter must now be marched out one by one, in compact plastic bags packed with high-tech kitty litter that does little to subdue ominous odors in the event that a pack-o-poo is left out in the sun for too long. This great misfortune is brought upon backpackers by the sheer number of their companions who ascend the mountain every summer - sixteen thousand per season. These hordes call from all over the world (but mostly from California) to seek the ultimate prize in the great pastime of walking among mountains: a snapshot photograph atop the tallest rock on the swath of Earth between Canada and Mexico. Yes, there one can find pretty rock crags and the usual wildflowers, but the hills and lakes aren't nearly as nice as the peaceful, lightly traveled valleys to the north and south ...and west. Almost anywhere else in the High Sierras, lovely campsites lack suspicious smells and seldom bear the battering of tired feet. Go climb if you must, but if you can manage, try one of the nearby peaks with better views, fewer people, and the same lack of oxygen.
June 2007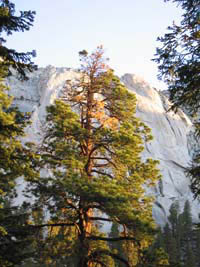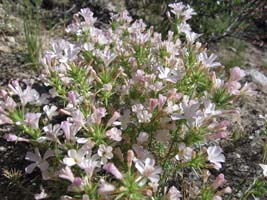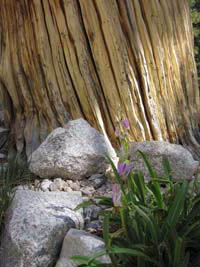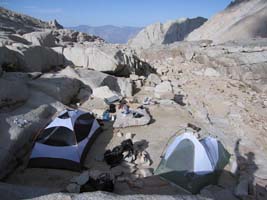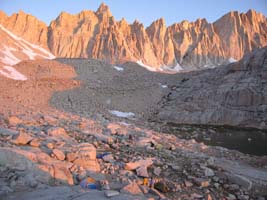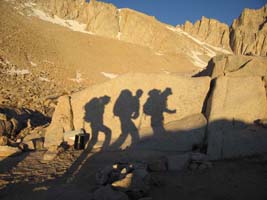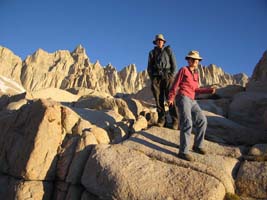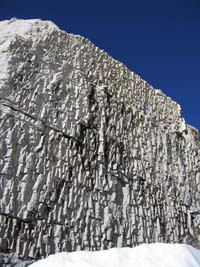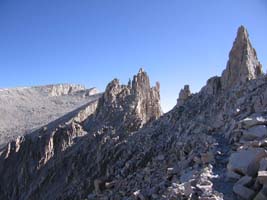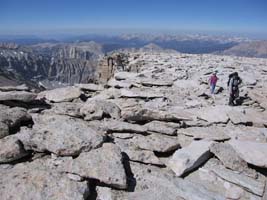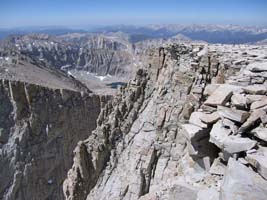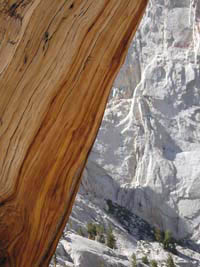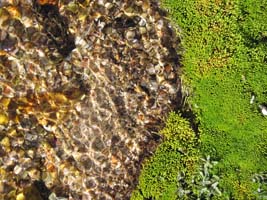 ---
Siri and Matthew's wedding, June 10th
June 2007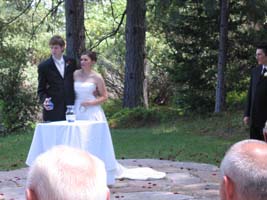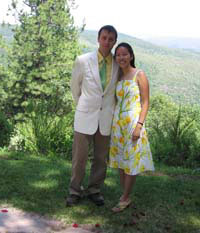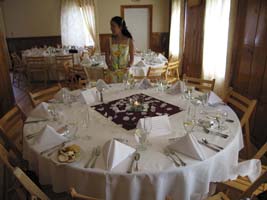 ---
to the index page