Winter/Spring 2008.
~mike gradziel.
to the index page
---
Cherry picking from Joy's parents' tree, and berry picking in Somis and Moorpark:
May - June 2008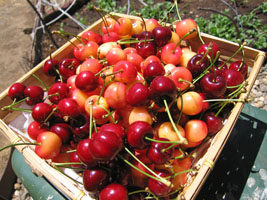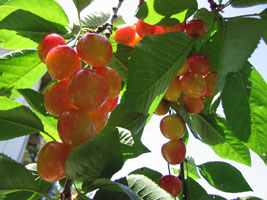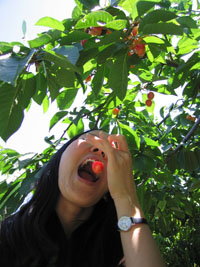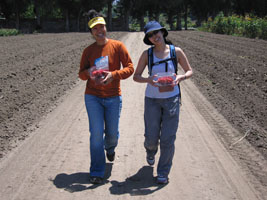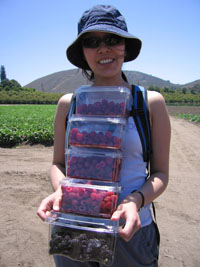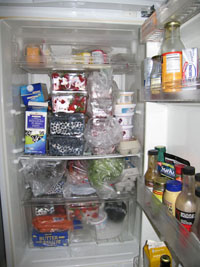 ---
Anacapa Island has the most beautiful seaside vista in all of southern California. A jagged volcanic ridge bent like a serpent has been broken into pieces by the pounding sea; steep rock faces soar up from black pebbled beaches and red-brown wisps of kelp swirl in blue pools just beyond the churning white surf. Standing at the top of the ridge, one looks out to the west at a string of islands and beaches while flocks of gulls and pelicans soar in from the lee side, bank to the north to catch the island's updraft, and rocket skyward without a single flap of the wings. Sea lions dive in the shallows and if you're lucky you might see whales. The gulls were nesting all over the island, laying speckled olive-drab eggs in shallow nests that they defended half-heartedly with raucous shrieks. When the chicks hatch by early June, the gulls become much less tolerant of people treading close past their nests and they harrass visitors unceasingly, so April and early May are probably the best times to visit. Then too you will see carpets of wildflowers; Joy and I had just missed the giant yellow coreopsis blooms but the ice plant was showing every hue of red and pink, and there was still some green to be found among the golden grasses.
May 2008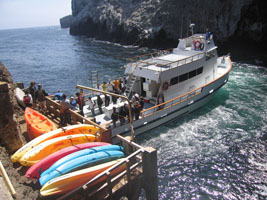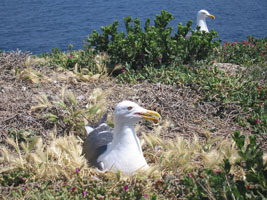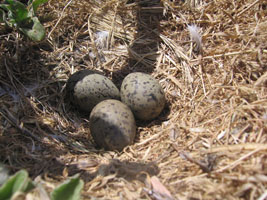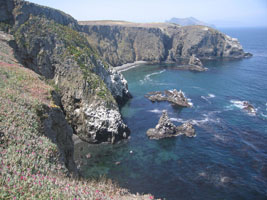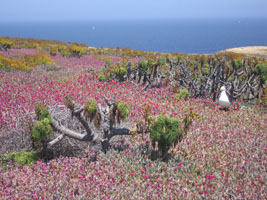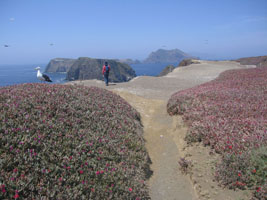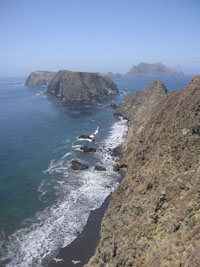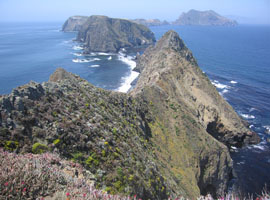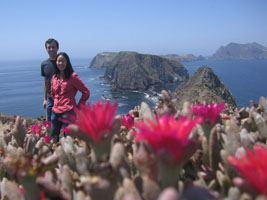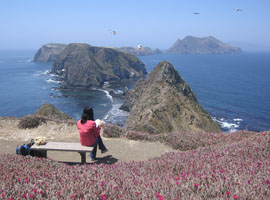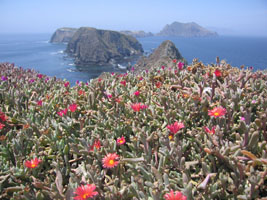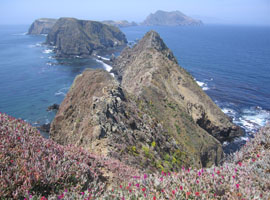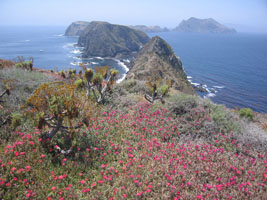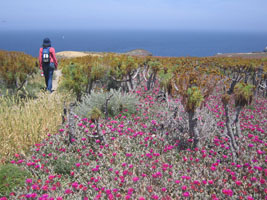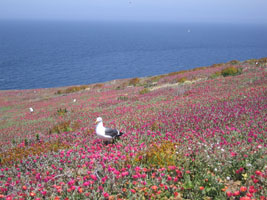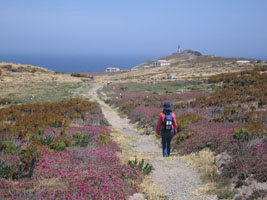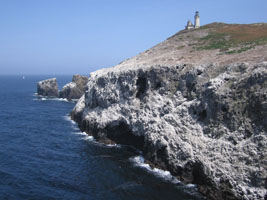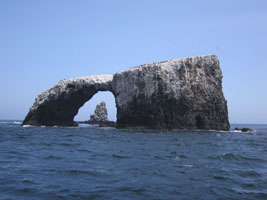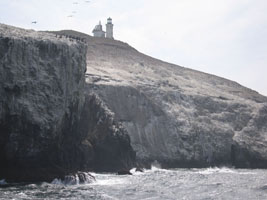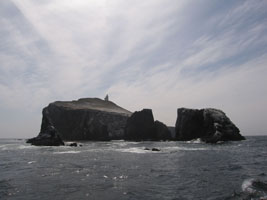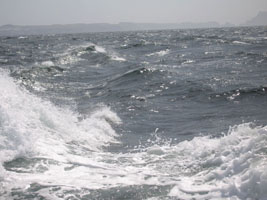 The thing I've been designing for three years works just as planned! Small rewards from first tests do little to reduce the looming mass of work ahead but after designing for so long it sure is nice to have proof that NASA's next interplanetary robot has a fighting chance at landing on Mars while hanging on my deployment mechanism slung under what's been aptly described as a rocket-powered hovercraft. Joy was down for the weekend so with my testing complete we ventured out to see grassy hills and craggy rocks at Malibu Creek where geese paddled in a small reservoir and yellow flowers blanketed hillsides. Saturday night we went out in Pasadena to a Japanese restaurant where guests grill their own sliced meats and vegetables on a small charcoal grill glowing from the center of each table. Like a meal of fondue combined with sitting in front of a cozy warm fireplace, the experience was very enjoyable. The menus came encased in metal covers - good thinking.
April 2008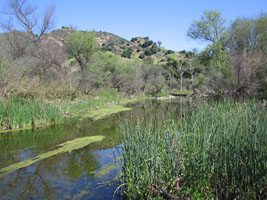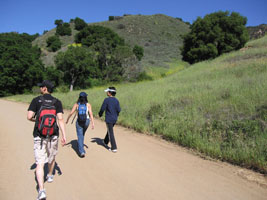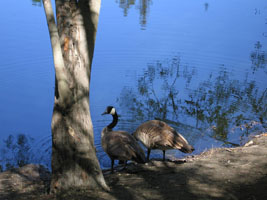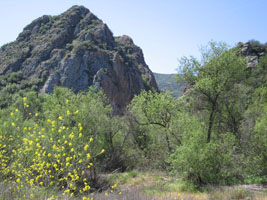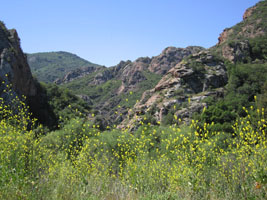 March 2008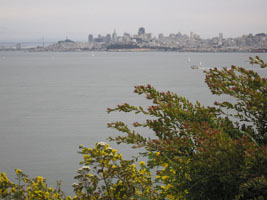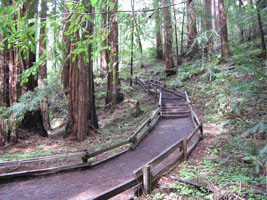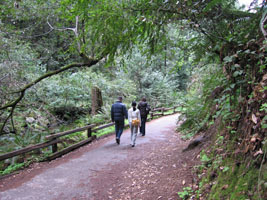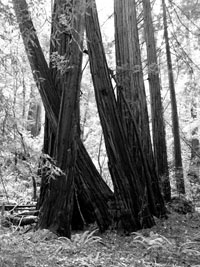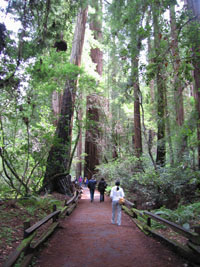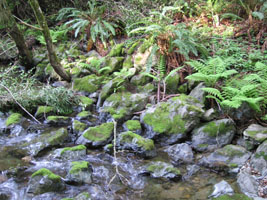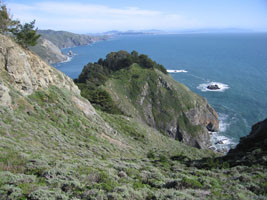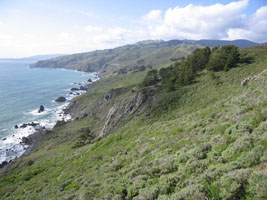 Joy spotted wildflowers along I-15 on Saturday and we went back on Sunday to seek out the best patches. Back in the green gullies, carpets of blue and white and gold lay splashed among attractive round boulders and scattered cactus plants. Bees hummed and the scent of pollen was strong in the air. I've seen photos of blooms like this, but never before found one in the peak of its color. We spent at least an hour clambering up and down the steep slopes past millions of flowers in every shade of the rainbow, then crossed a highway and came upon the most blindingly dense patch of orange poppies I have ever seen. These photos are from near Lake Elsinore, into the hills from the Diamond Drive exit.
March 2008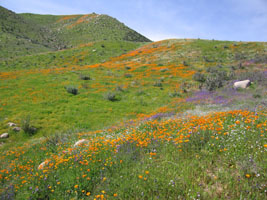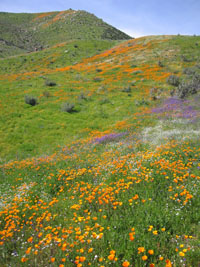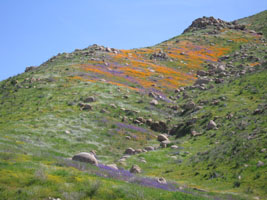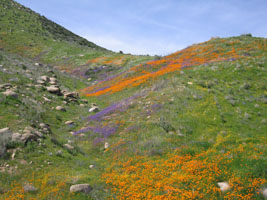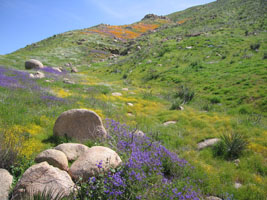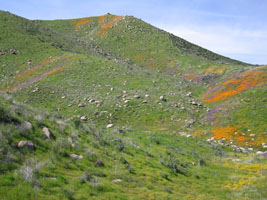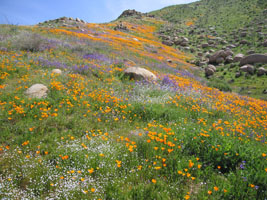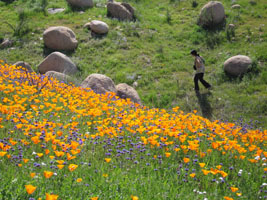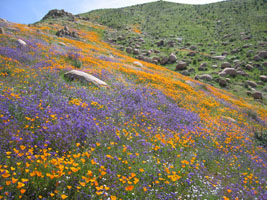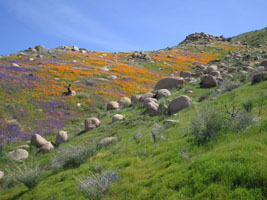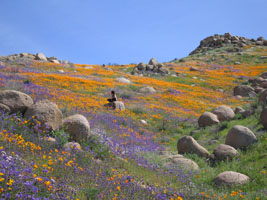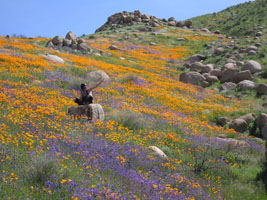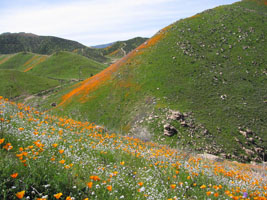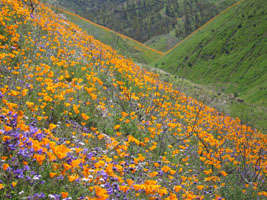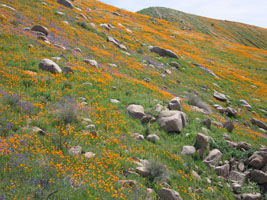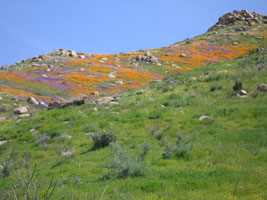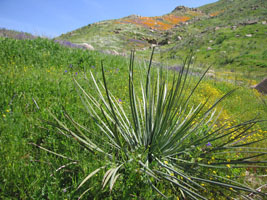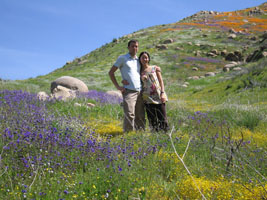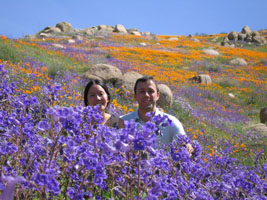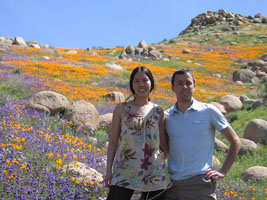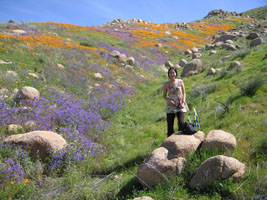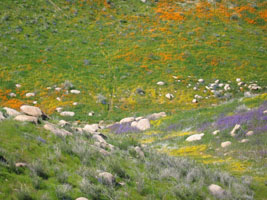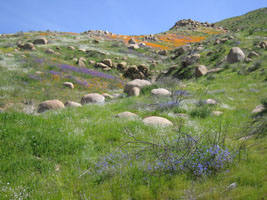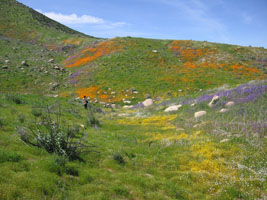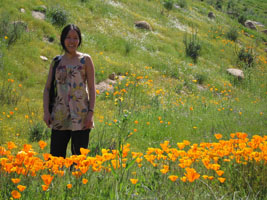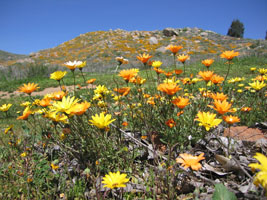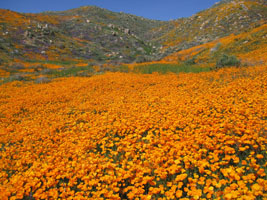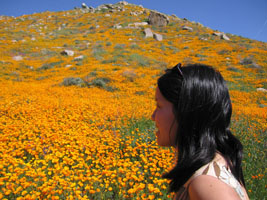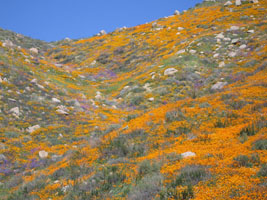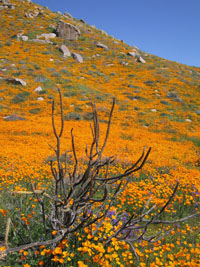 ---
Stone fireplaces with cordwood stacked over glowing coals, huge logs for mantlepieces and crossbeams, and furnishings of leather and rusted steel are all the rage in Montana ski country. Upscale restaurants offer cuts of elk and bison on their menus and sport mounted heads of sheep and antelope on their walls; in corner nooks there are bronze sculptures of bears, and guns or fly rods hang on the walls. I stepped into an antiques shop hoping to find a colorful wool rug like so many that adorned my hotel's corridors, but Navajo weavings fetch many hundreds of dollars even at saddle-blanket size. Old glass jars and iron pans were tagged with a higher price than I'd see in a Pasadena flea market, something I found unexpected so far out in western Montana. I wasn't even close to the ski town. Could the demand for rustic cabin furnishings really be so high as to drive up prices out there? I never did ski, choosing to forgo the rush of the biggest ski mountain I've ever seen and instead to focus on my one day at the IEEE Aerospace Conference and the trees sparkling with ice crystals.
March 2008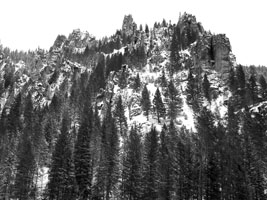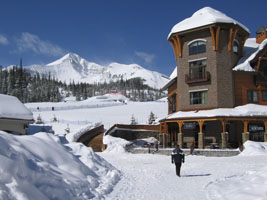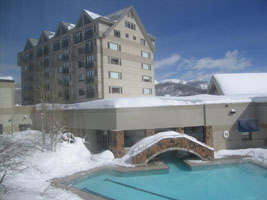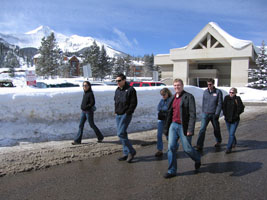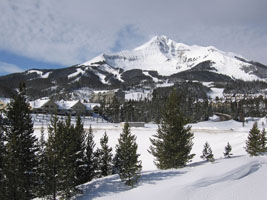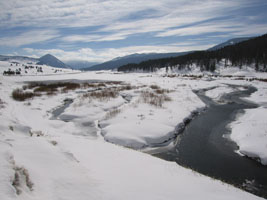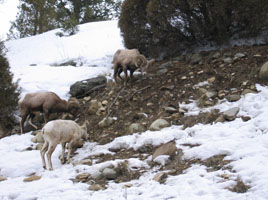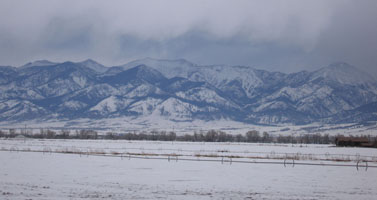 ---
Wildflowers were still scarce in the Antelope Valley when I went looking...
February 2008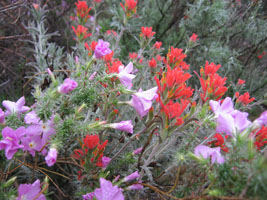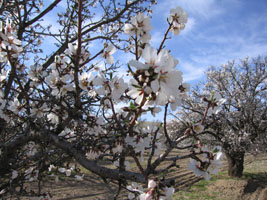 ---
Hunting wildflowers near Joshua Tree, I drove 400 miles on Saturday making my way across verdant valleys and dew-drenched green hills to the spectacular bloom at the park's South Entrance. There among dry hills my shoes became covered in pollen as I stepped among the flowers while listening to singing birds and buzzing bees. The excitement wore off after I tired myself out racing out to the Los Palms Oasis, a 7 mile round trip hike through mostly non-flowering desert, but I drove on across the park to the empty places east of Twentynine Palms where pink flowers lined the roadway and scattered patches of color adorned a pass on the road north to Amboy. Keep in mind that my photos show only the best flower patches... the whole desert isn't really carpeted with flowers though it seemed that way for the first half-hour of running in circles with my camera!
February 2008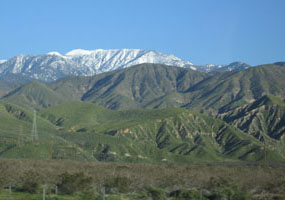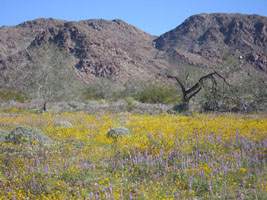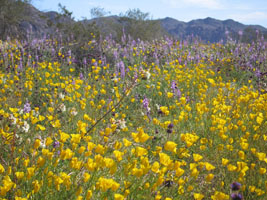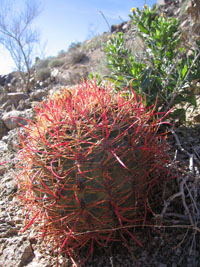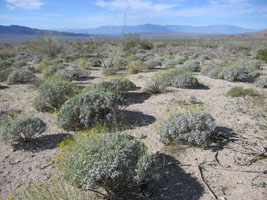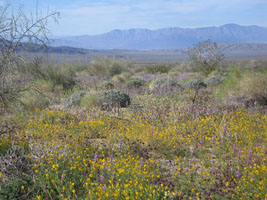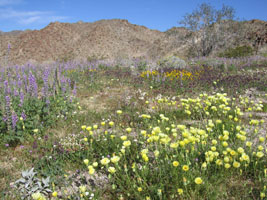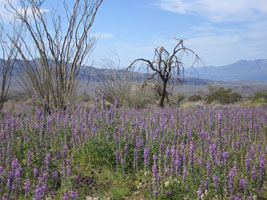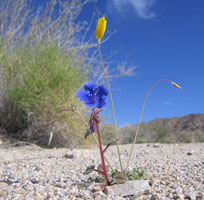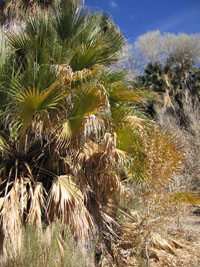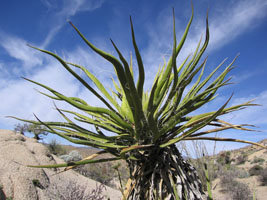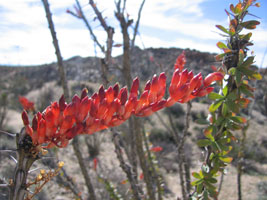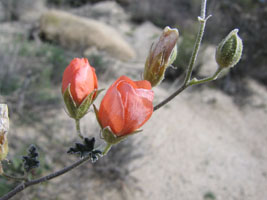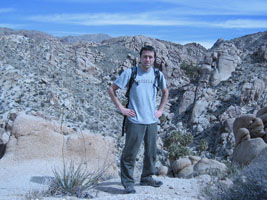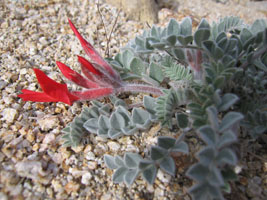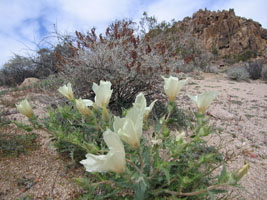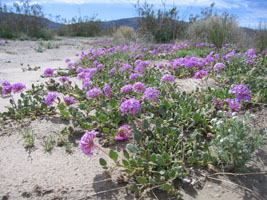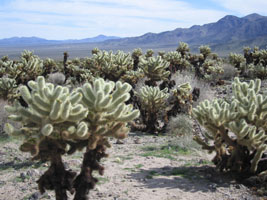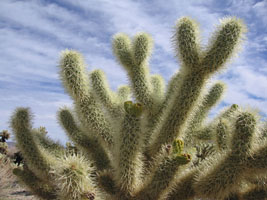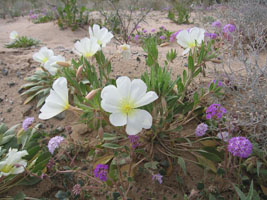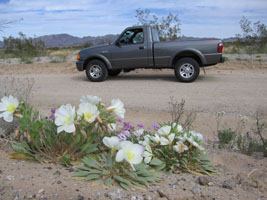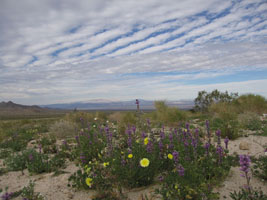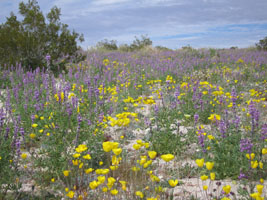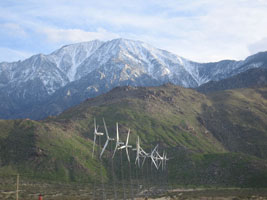 ---
Back in Massachusetts for the long weekend, we rode the toboggan down perfectly snowy hills and picked giant icicles from rocks in the forest. It's a long flight back to California - I've forgotten how far it is. At night the time passes quickly but the return flight runs all day and I spend a fair amount of time looking out the windows. I think I've figured out why Chicago suburbs make me uneasy. Houses in Los Angeles and San Francisco don't dream of being anything more than stuccoed boxes packed together and surrounded by concrete and scrawny trees, and it seems that anyone living in them must have capitulated all desire for green space and quiet for the simple necessity of having a place to sleep. But to the west of Chicago on endless acres of flat land laid out in a perfect grid of streets, life is doled out in neat little packages, each with its scrap of grassy yard, shade trees, driveway with cars, and comfortable house just adequate and identical to fifty thousand neighbors. To live there would mean acceptance that one only needs these meager rations of prescribed American dream. To me, a suitable home is either a cozy enclave in a sea of wilderness or a snug apartment in a sprawling metropolis; each offers close at hand a reservoir of information and activity that feeds the mind. With every yard of its orderly streets lit brightly at night and every one of its patterned neighborhoods cold and empty and alike, Chicago seems drained of life.
February 2008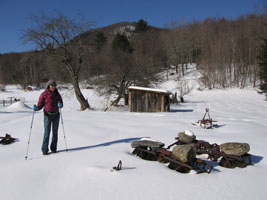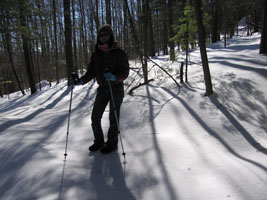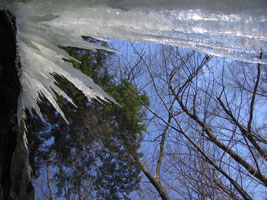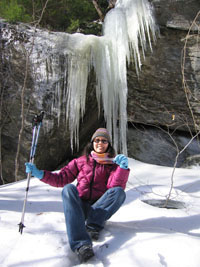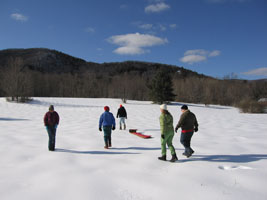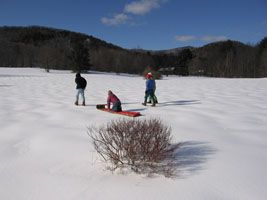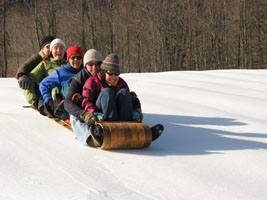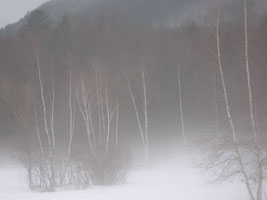 ---
For years I've thought of taking time off from work some sunny day after a winter storm to walk up into the snow high in the mountains. On Tuesday I finally did this, rising at 5am to drive an hour to Mt Baldy where the roads were covered in ice that my truck gripped only because it was so cold in the pre-dawn darkness. Meltwater at sunrise left cars spinning uphill, but by then I was on my way down making a dash back to the office before too much chaos unfolded in my absence. Up on the mountain, warm sun was melting off the bits of ice and snow that crusted every tree. An endless cascade of ice chips sifted down every gully. I didn't walk far, since the snow was dense and my big snowshoes aren't good for steep side slopes in packed powder snow, content instead to watch the sunrise turn the hills pink and light the white trees with yellow fire.
January 2008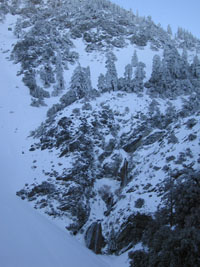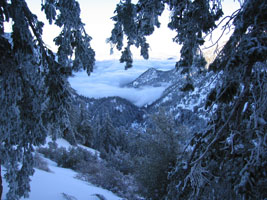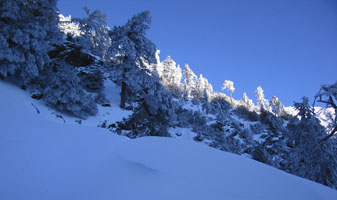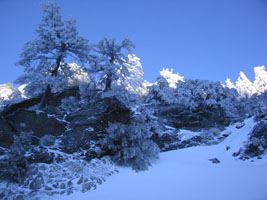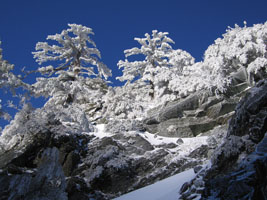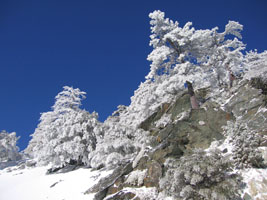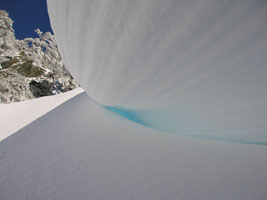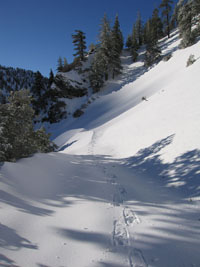 ---
to the index page