Spring 2007.
~mike gradziel.
to the index page
---
It was an epic journey through New York and Massachusetts, though not quite on the scale of our drive along the Eastern Sierras a month earlier. After an immense Salvadoran dinner in West LA with Berto, Joanna, and Sean I flew to Chicago to meet Joy. We continued to Rochester mid-morning and drove to my Grandparents house where thousands of dandelions, yellow goldfinches, orange orioles, red cardinals, and green grass all conspired to make Los Angeles look dull. While we wandered on the lawn at sunset, fox cubs played in the field and their mother barked from a hedge row. The next morning we drove five hours to see my parents, arriving in time for a short walk and a tasty meal. After dark we crept out to the pond with a lamp to look for spring peepers, minute frogs with big voices that hurt our ears as hundreds of calls tore the air in unison. Morning brought stacks of pancakes and a drive back into New York to Oneonta to see Robin, Jose, and Molly & Leia. We visited dogs in the park and the girls found fossils along a creek, but too soon we had to leave to get to Ithaca to see Lisa and chat over dinner. The sky was soaked in colors as we drove back to Geneva, stopping along the way to see a lovely waterfall, to photograph a particular tree I remembered from a visit years ago, and to ask a road crew what they were doing with hundreds of plugs stuck in the ground and connected by orange cables strung mile after mile along the road. They also had a huge lumbering machine that looked like four trucks chained together, something that might sputter and lurch out of a junkyard and did not belong on a pretty lakeside drive. But there's natural gas under the shale; to find it, the sputtering machine can put down a big foot and shake the ground so hard that the compression waves travel kilometers straight down, scattering in telltale patterns read by the miles of geophones plugged into the green grass.
May 2007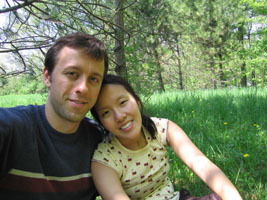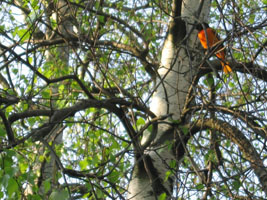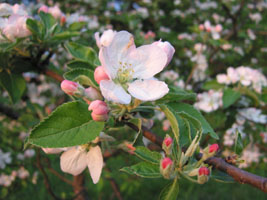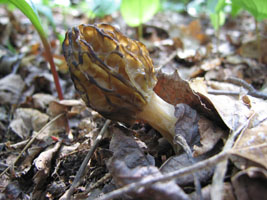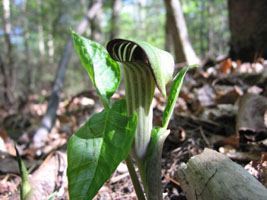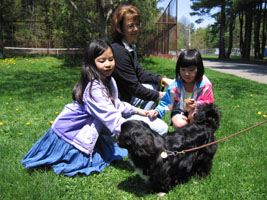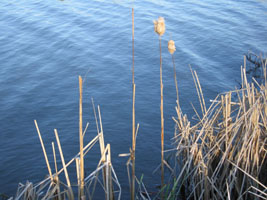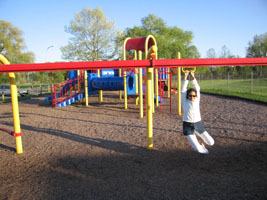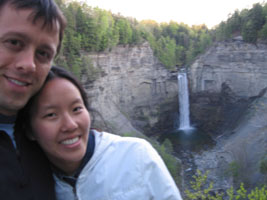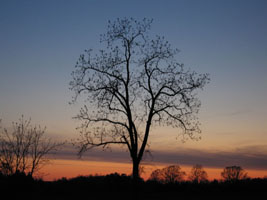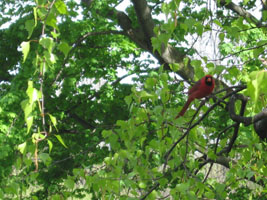 ---
Joshua Tree: camping at Indian Cove is becoming a regular thing now after five times! Also the trek to The Rock is becoming habitual, as is grilled meat and bacon with pineapple and finding these cool red cactus plants.
May 2007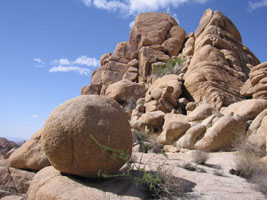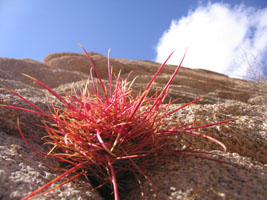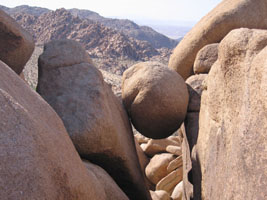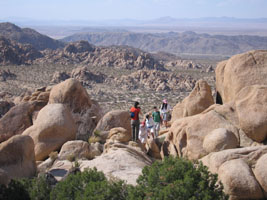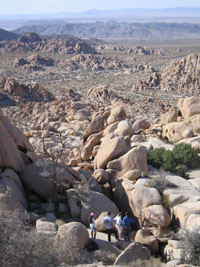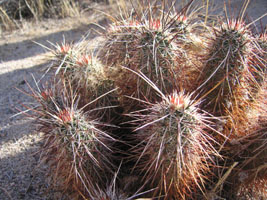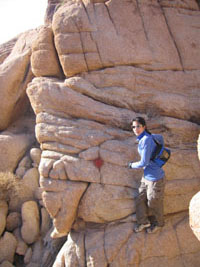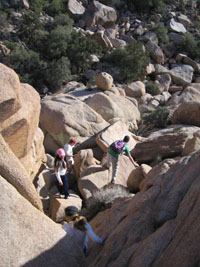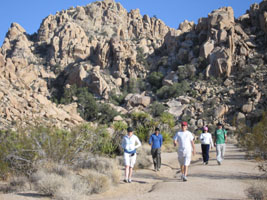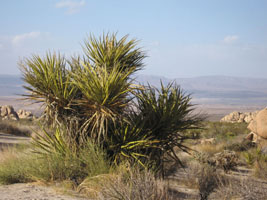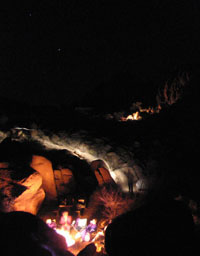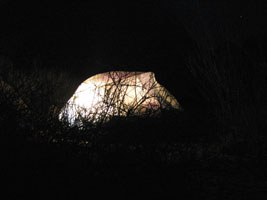 ---
Desert dunes, lava formations, hot springs with a vista of snowy mountains, juicy hamburgers at the Mt. Whitney Restaurant in Lone Pine, other-worldly mineral towers at Mono Lake at sunset, truck-trapping fields of pumice with bright moonlight and shiny shards of black obsidian, the trendy mountain village at Mammoth Mountain where a ski lift comes right to your hotel lobby, the lakes of the Eastern Sierras packed with fisherman on opening day of the season, four thousand year old pine trees perched on windy mountian ridges with spectacular views of the Sierra Nevada mountains, sunset among the boulders of the Alabama Hills, microbrewed beers made from desert spring water at Indian Wells, and finally a long trek home through the dark to sleepy Los Angeles:
April 2007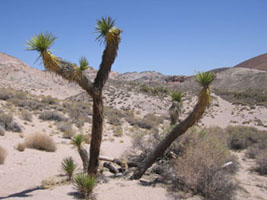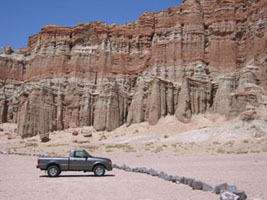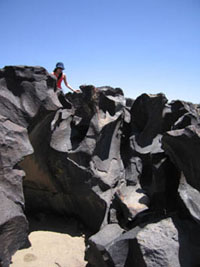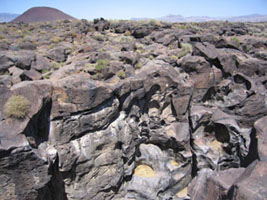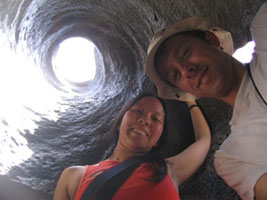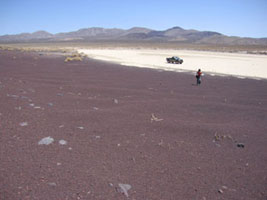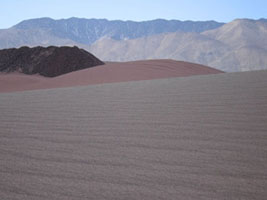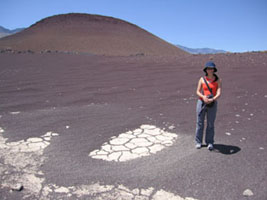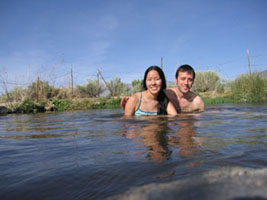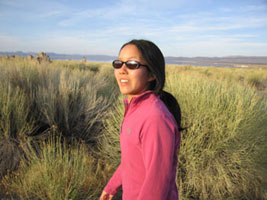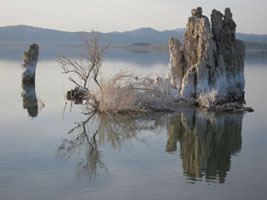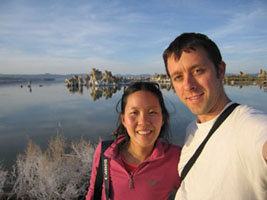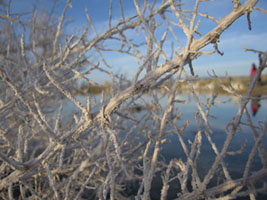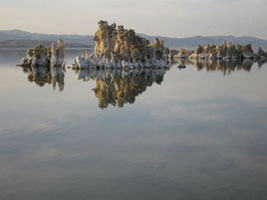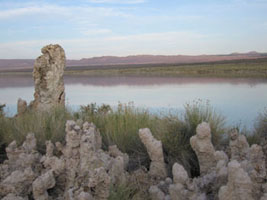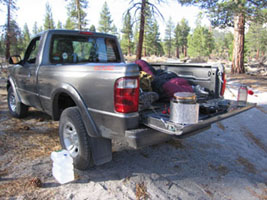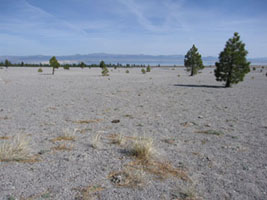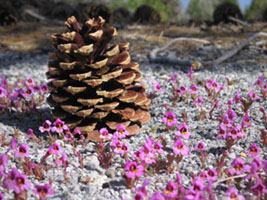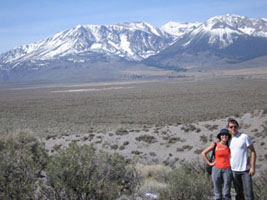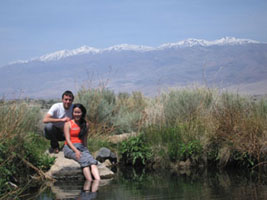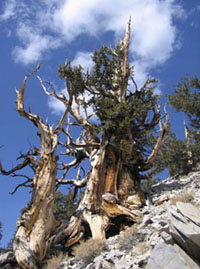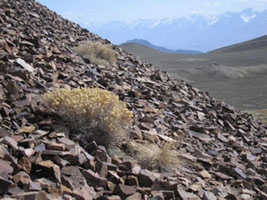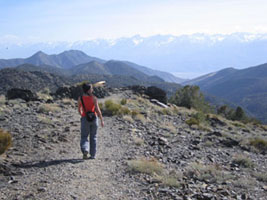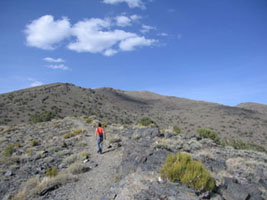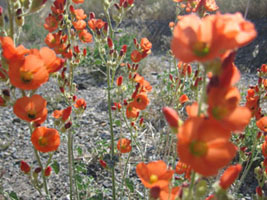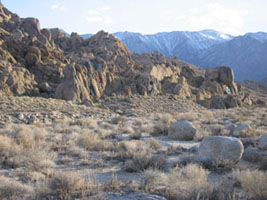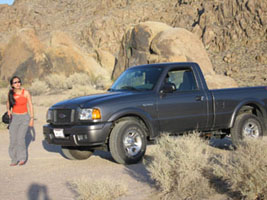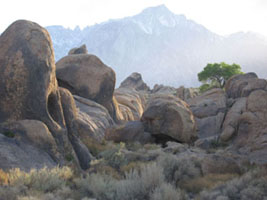 ---
Four hours north of San Francisco thick green grass has sprung up from the hills and explosions of magenta flowers have emerged on gray and green shrubbery. Patches of yellow were splashed around especially in the fields of boulders thrown out from Lassen Peak when it erupted about 90 years ago. Joy and Doug and Hsun-tzu and I snowshoed to a ridgetop in Lassen, making the most of the season's last few feet of snow while sweating in the hot sun. Sulfur steam wafted from boiling pits in the ground at one place along the trail. That evening, after hefty barbecue sandwiches at a diner in Red Bluff, we played cards at a bar & grill until the nightlife became too serious for my muddy boots with laces untied, Joy's yoga pants and pink fleece, and Doug's curiously mismatched shoes. Sunday we drove to Shasta Dam, a concrete monolith shrouded in a heavy gray cloud that together with the streaked, lichen-covered concrete and dead silence of the place suggested something ominous was about to happen. We walked a short loop around a peninsula past turquoise water, wildflowers, bright red rocky shoreline, and fresh green grass before driving the long road back. I flew south Monday morning: it feels strange to commute 400 miles to work and then drive 4 miles home for dinner.
March 2007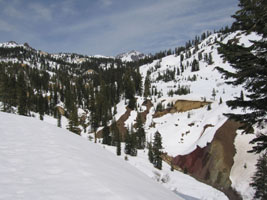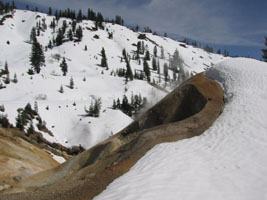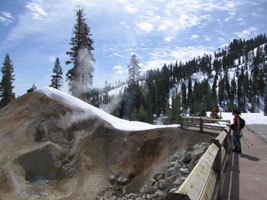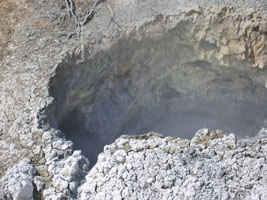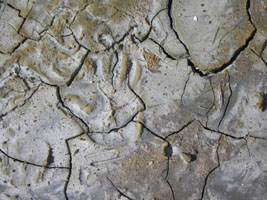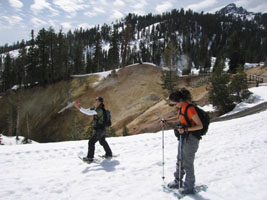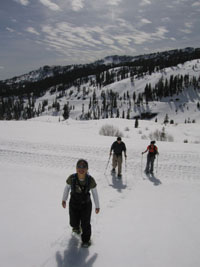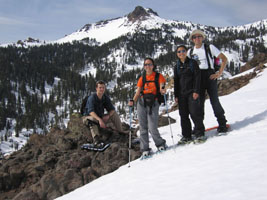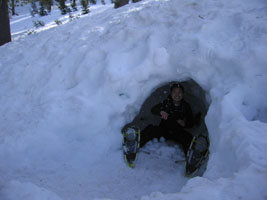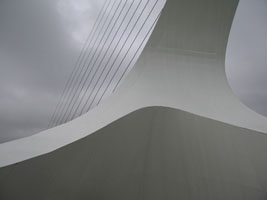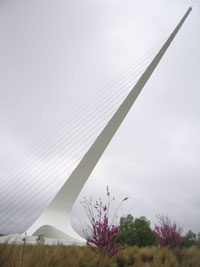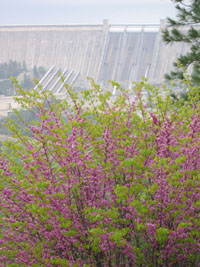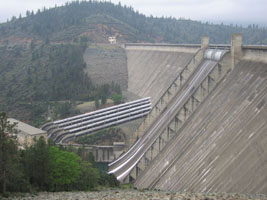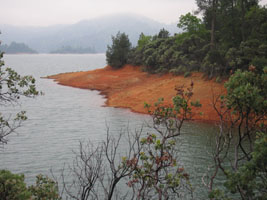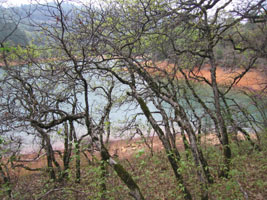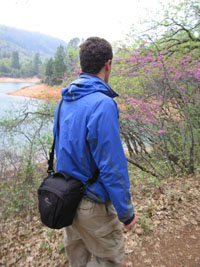 ---
A week ago Joy and Doug and I went on a whale watch from Half Moon Bay, having rescheduled after the first attempt that was cancelled by high winds. This time the sea was calm, which means four to six foot swells each perfectly capable of rocking the boat enough to make our stomachs queasy when the bow wasn't pointed into the waves. That happened most often when we were watching whales, so it was an acceptable compromise. We saw sea otters and a dolphin and four gray whales; the whale spouts were visible a half mile away in the clear air. I flew to Boulder a few days later for a business meeting. Joy followed on Thursday evening and we set out to explore Pearl Street before heading into the mountains to snowshoe a short loop through the trees at ten thousand feet. After dinner at the rustic and romantic Twin Owls restaurant where portions were so enormous we couldn't finish our roast duck and elk and freshly baked bread we retreated to the luxurious warmth of our private hot tub at the Dripping Springs Bed & Breakfast. In the morning snow was falling as we drove back into Rocky Mountain National Park and ventured off into the woods where in three inches of fresh powder we saw all sorts of animal tracks, a white rabbit, and several squirrels. Saturday night we returned to Boulder to visit Grandma and Grandpa, Pat and Jeff and the kids, and even Uncle John who drove all the way from Kansas.
March 2007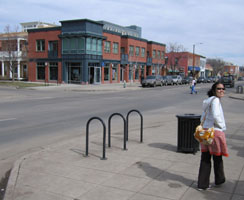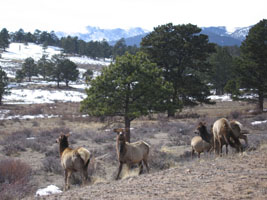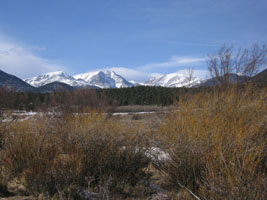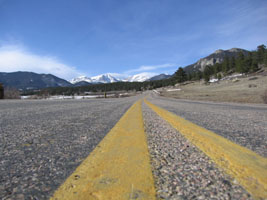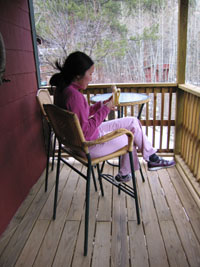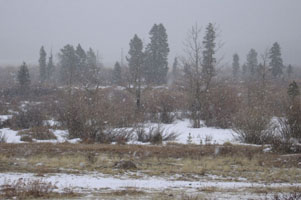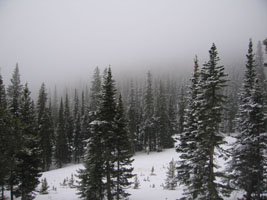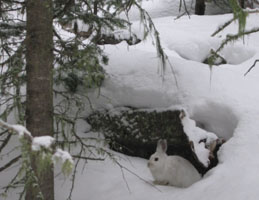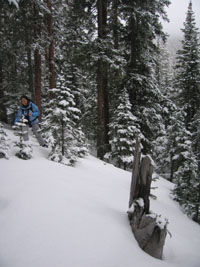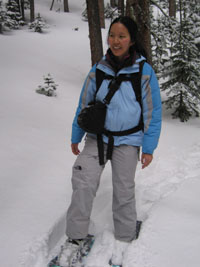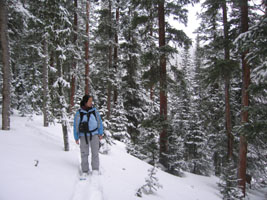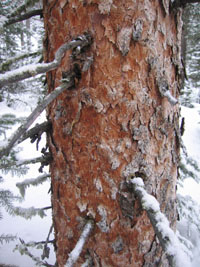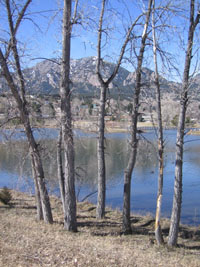 ---
My neck was stiff from looking out the window continuously for an hour on my flight back from San Francisco a week ago. The weather was perfectly clear, I was flying during the day, and every detail of the land below was visible. I spotted Joy's apartment building and admired the city and the Golden Gate and Half Moon Bay, where we'd browsed shops and galleries and discovered a fantastic sandwich shop on Sunday. We planned to go on a whale watch cruise but high winds had whipped up the sea and we had to reschedule. Out at the beach, the wind was so strong it made my ears hurt. Sea foam churned up by the heavy surf washed ashore in foot-thick mats that were promptly torn apart by the wind; chunks of foam tumbled across the sand like big blocks of broken styrofoam. The same wind had cleared out all dusty air so as my flight descended into Burbank I noticed for the first time an area of mountains in Los Padres National Forest northeast of Ojai. There's a condor sanctuary up there, and deep canyons and dramatic ridges of layered rock. I printed some maps and set out the following weekend with Sean, Joanna, Michael, and Kristin with the goal of making it to a ridgetop to see the ocean and Channel Islands. On Saturday morning we set out upstream, climbing over boulders and following some short sections of washed-out trail to a fantastic swimming hole with high cliffs for jumping - one 80 feet high, which people do jump from though the landing pool is narrow. We saw fossil shells and lush green hollows lined with maidenhair ferns and crumbling black clay boulders that had shattered in the dry heat. The East Fork of Santa Paula Canyon ended after five miles in a wet clay gully recently carved from the hillside by storms in 2005. The landscape was wild looking: trees were uprooted and broken in half and freshly broken rock shone brilliantly in the sun. A nearly impenetrable wall of tangled brush blocked the canyon rim. I think the Sespe River might be a better approach to the ridge top; there's more bare rock and less shrubbery on the east side.
February 2007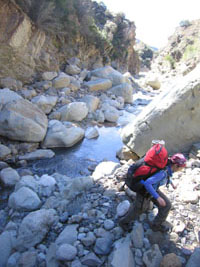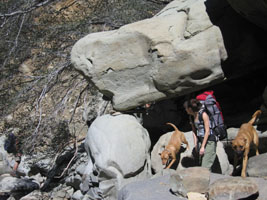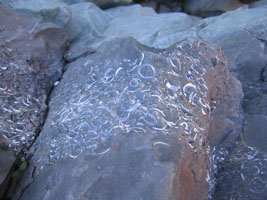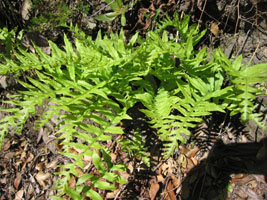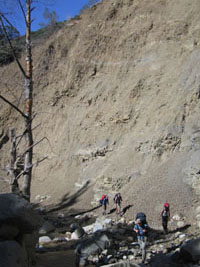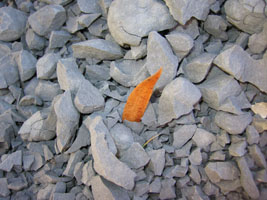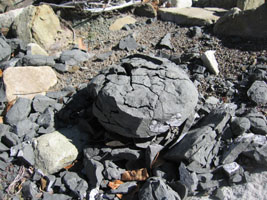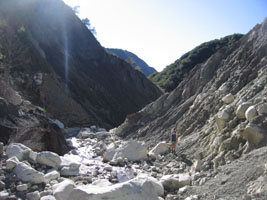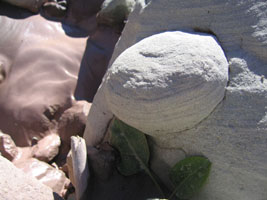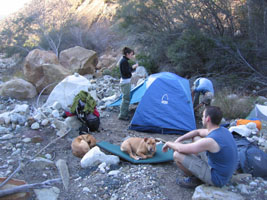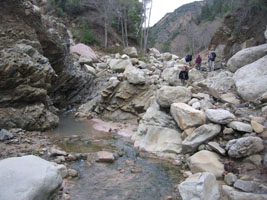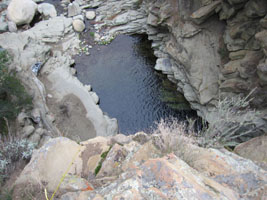 ---
From my window seat, it looked as if muted orange light from within the earth was soaking through the ground, pooling in lowlands and making the Los Angeles basin appear like a top-crusted berry pie or a sheet of paper set on a wet table. Bands of clouds divided the horizon into shades of gray and shook American Airlines 873 intermittently as it flew through them. Down on the ground, it turned out that quite a few other folks were also trying to get to Pasadena, some just going home like me but many arriving to see the Rose Parade and Rose Bowl game the next day. We half-heartedly brought in the New Year standing wearily at the curb watching traffic pass and waiting for a shuttle van with more room. Spending the holidays at home was nice, though it seemed eerily like Thanksgiving rather than Christmas probably because I hadn't been home for Christmas in three years - and, there was no snow on the ground. Congratulations to my Mom's parents on 60 years of marriage! We celebrated that last week with all the family.
December 2006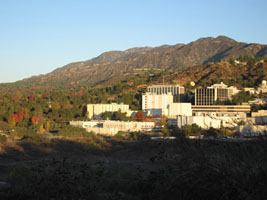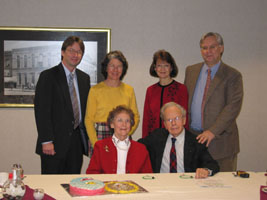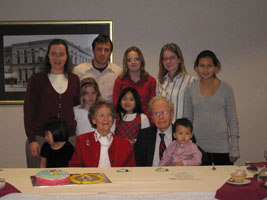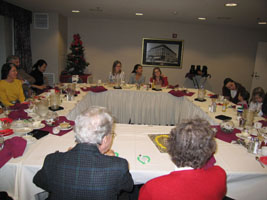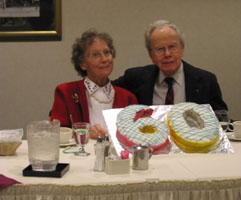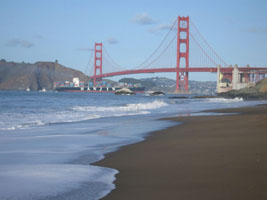 Mount Baldy Hike, January 2007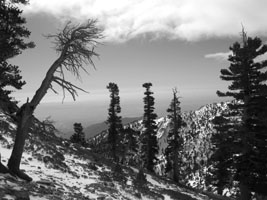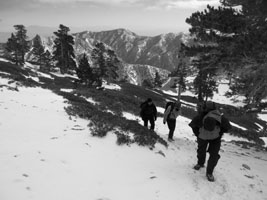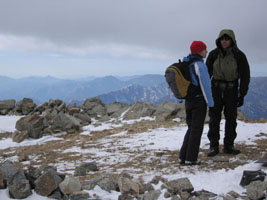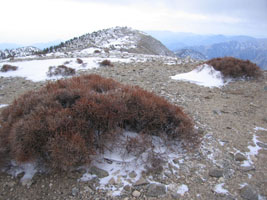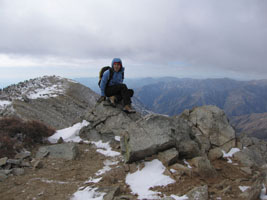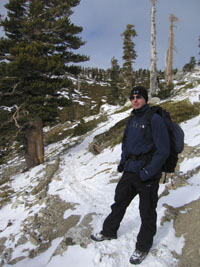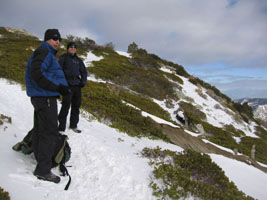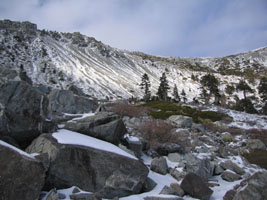 Half Moon Bay, January 2007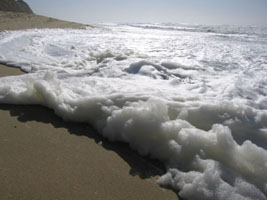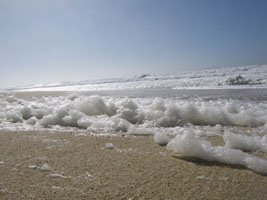 ---
to the index page