Winter/Spring 2006.
~mike gradziel.
to the index page
---
There were between four and eight feet of snow, depending on the exposure, at our campsite 9400 feet high in Sequoia National Park. Steve and I hadn't really planned on finding any snow, and our ignorance was aided by clouds that concealed the snowy peaks until we pulled into the Lodgepole station and got our hiking permit. We set out on the trail to Pear Lake but stopped on a ridge overlooking Heather Lake instead, since going further meant more work, a lesser view, and less morning sun. Tree wells showed the dozen of so layers of snow from different storms, each separated from the others by a layer of twigs and pine needles. After setting up the tent, I walked to turquoise pools of water melted into lakes that were frozen to their bottoms. We ate dinner early which was fortunate because as we were packing the remaining food away it began to snow heavily; two inches of powder covered our tent and packs by sunset. Then during the night the sky cleared and revealed a spectacular display of stars. Even though there was no moon, the starlight reflecting off fresh white snow made it light enough to see easily. It also let the temperature plummet and we spent the night trying to find warm places inside our sleeping bags, neither of which was for sub-freezing temperatures. In the morning water in bottles inside the tent was starting to ice over; it must have been twenty degrees outside. The bear canister had a twist-on lid with a tab that had to be depressed to open it and was also man-proof when cold since the plastic tab became too hard to bend. That was frustrating! I opened the tent door to peer outside just two seconds before the sun leapt above the ridge to the east and sent a beam of warmth into our sleeping bags. I hadn't brought my ice axe, so chopping out the deadman anchors I used to secure the tent took quite a while with my four inch long dive knife. We hiked out early, back down to my truck which had only a light dusting of snow on it, and then drove down into an entirely different season where wildflowers were in full bloom in green grassy meadows, trees were in new spring leaves, the Kaweah River was rushing high with snowmelt, and the air was warm - hot, even. Eight thousand feet lower down families were gathered at a reservoir, sitting in lawn chairs or fishing or speeding around in fast boats, unaware in the summer heat that just days earlier the water under their boats had been a world away, locked in icy crystals high in the mountains.
May 2006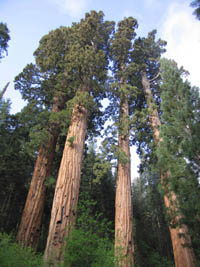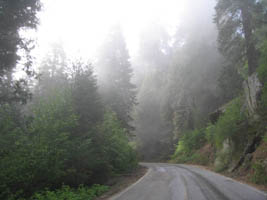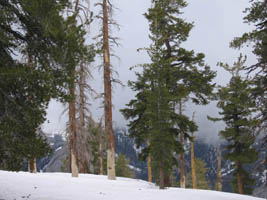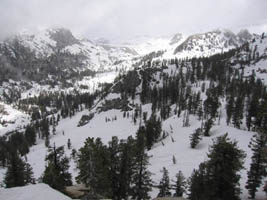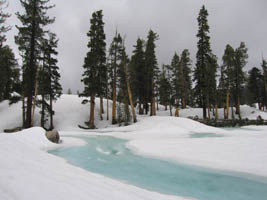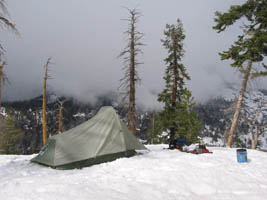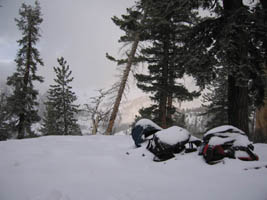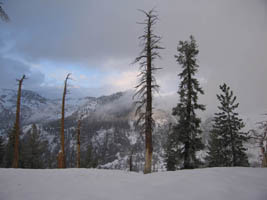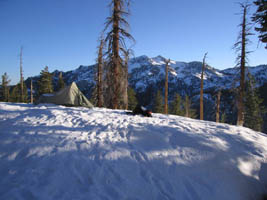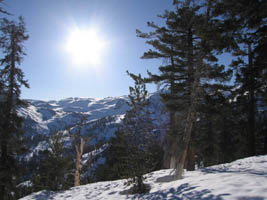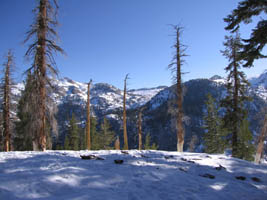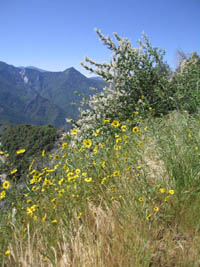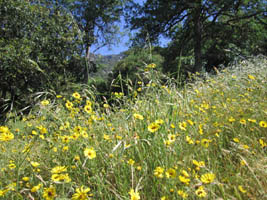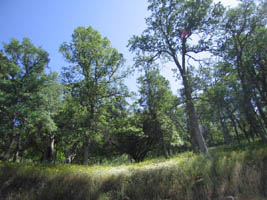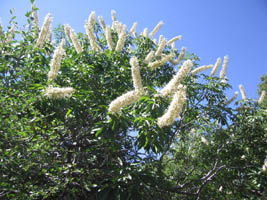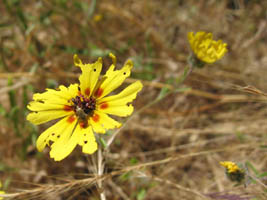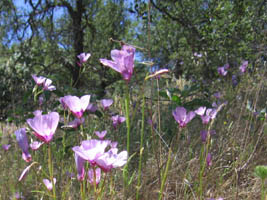 ---
Up north again, this time Joy took me to the MOMA (art museum) in San Francisco. We browsed through a fascinating exhibit of mobiles by Calder and then past room after room of surrealist artwork. The works had a similar theme, but one stood out to me as the perfect example of art gone astray: In 1951, Rauschenberg created a set of three unframed canvases painted plain white and titled them "White Painting [Three Panel]". Visitors gaze in wonder at the supposed display of artistic talent that's been described as a revealing work that shows 'changing play of light and shadow and the presence of dust.' Undoubtedly various collectors have paid highly for those paintings. The plaque beside them even said that the artist desired that they be repainted if they aged to regain the white effect and prove that a work of art need not show any trace of the work of the artist. The economic promise of selling blank white paintings to Rauschenberg enthusiasts appears inviting at first, but I didn't see any blank canvases for sale in the gift shop so it may be that people are getting their works of fine art at their local craft stores instead.
Next we bought cream puffs at a new Japanese bakery that turned them out assembly-line fashion fresh from the oven to a long line of waiting customers. Later at Allegro Romano we enjoyed excellent food and the complimentary bruschetta and after-dinner port wine brought out by the sociable owner himself, who spent the evening chatting with guests while darkness fell outside on the quiet hilltop residential streets. Sunday morning Joy and I made our way across the peninsula with about 65,000 other people running, walking, and pushing all sorts of contraptions from the start to the finish of the Bay to Breakers 12k race route. Along the way were porch parties, bands playing, and crowds of people watching. We didn't wear costumes; maybe next year. Afterward we ended up walking two more miles to Park Chow for lunch (great food, like always) before taking the muni back aross the city.
May 2006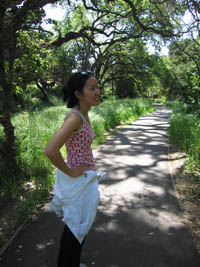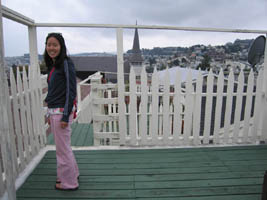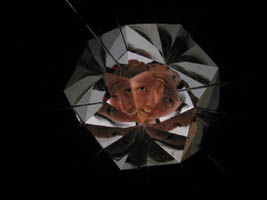 ---
My parents came out to visit at the end of March. We went looking for flowers in the Antelope Valley but despite recent rain the grass was dry and brown and only a few patches of flowers were starting to bloom. Joy and I went snowshoeing the first weekend of April on Mt Baldy. The snow was melting quickly and had refrozen hard enough that we didn't need snowshoes after all. The following weekend, after another storm added to the snow in the mountains and drenched the Antelope Valley, Sean and I drove out to the poppy fields at the western end of Avenue A and then stopped by the flower hillside overlooking Lake Elizabeth where just like last year, thousands of yellow flowers covered the slopes. Flowers are hard to catch - as soon as you get close, they seem to thin out but when you back away they're solid gold. Though I tried to make this show up on film, you really need to get out there yourself to know what if feels like to walk around among so many flowers.
March 2006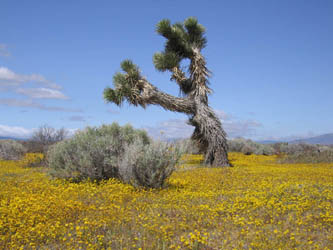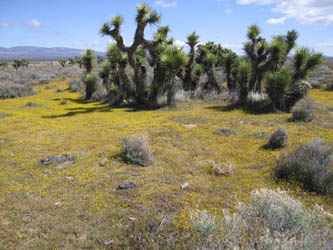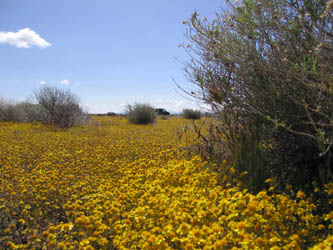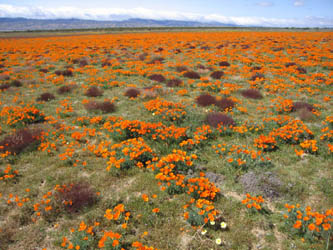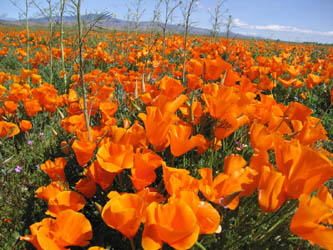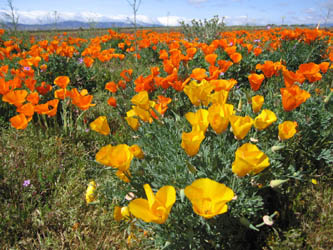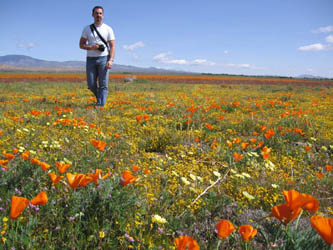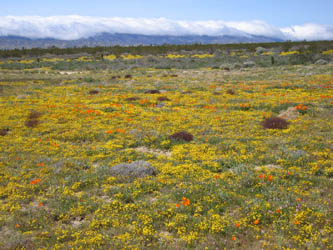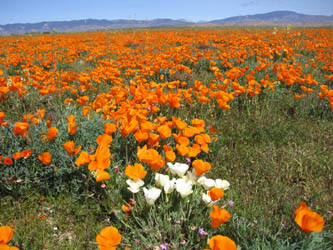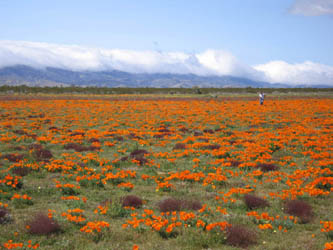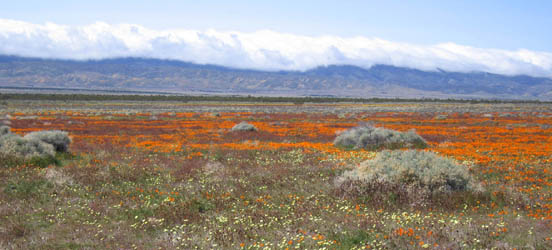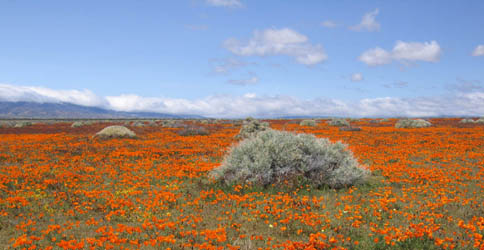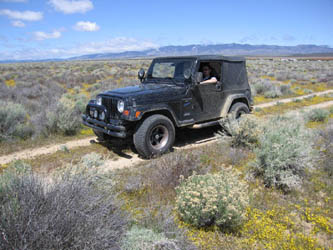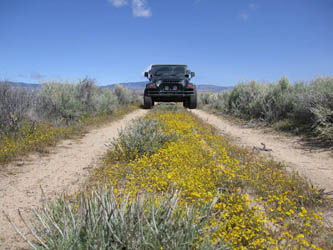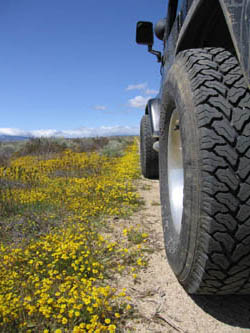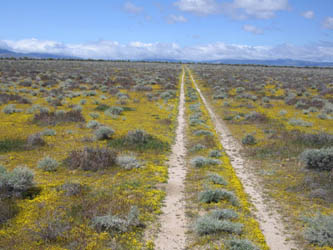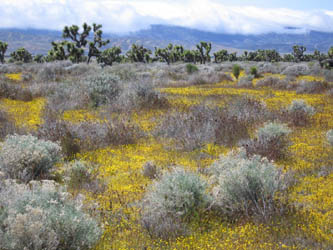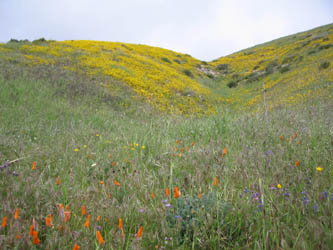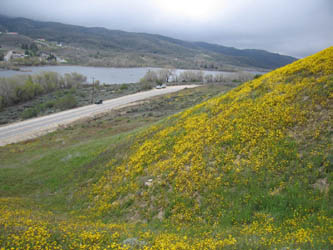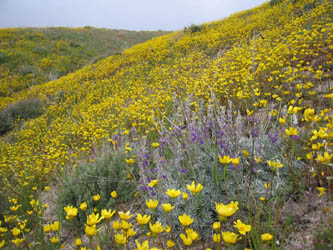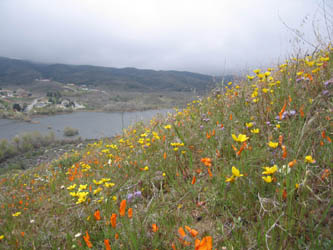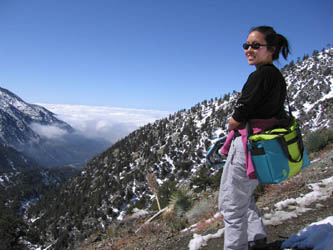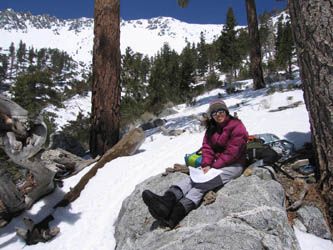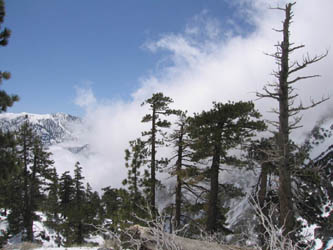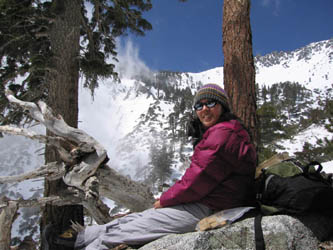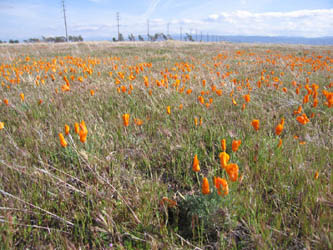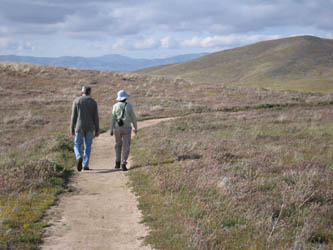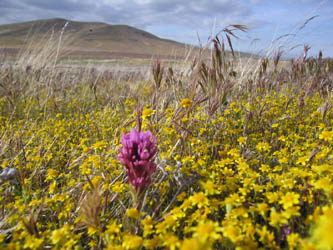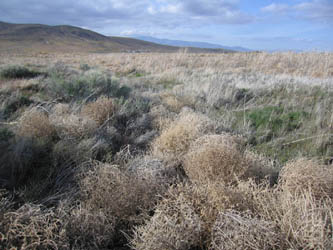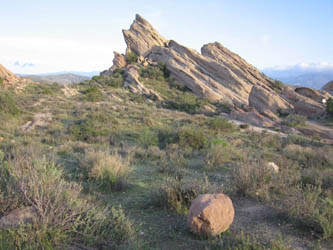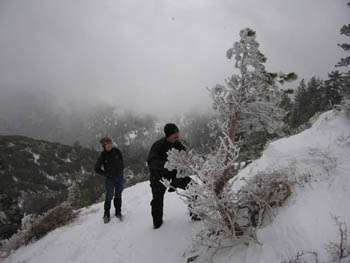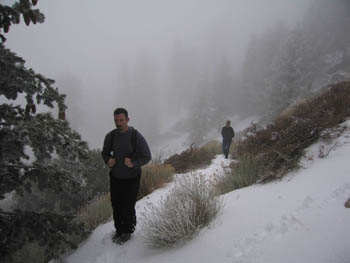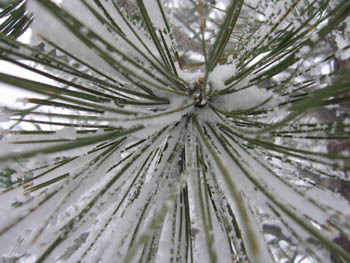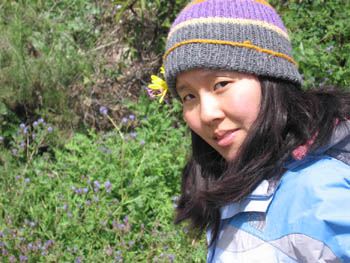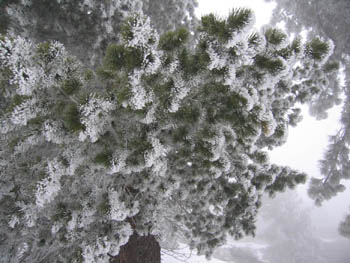 ---
There was a deep layer of new light powder snow in the mountains west of Lake Tahoe Saturday. Doug, Joy, Hsun-tzu, and I drove from Palo Alto up to Colfax, a little town along I-80, on Saturday afternoon and stayed the night at a motel (just $65! - much lower than Lake Tahoe hotels on a holiday weekend). There were just a few restaurants nearby aside from the fast-food options and it seemed like everyone was at Giovanni's Italian Restaurant. It was a $20-30 entree sort of place with well presented food and a dinner date clientele and a 45 minute wait so we moved on to the Red Frog where we ate two large pizzas while watching the Italy Olympics. Back at the room we stayed up too late watching more skiing and skating. In the morning the sky was partly clear and the roads were wet but open without chain control which was good because we had no tire chains and any sold up there would surely be expensive. My directions from a website were not very thorough and six years out of date: the right way to hike Donner Peak is to exit I-80 at Soda Springs Road/Norden, bear right and continue on the main road following signs to Sugarbowl (ski area), pass Sugarbowl and Donner Ski Ranch and at the top of the hill park in the Sugarbowl Academy lot if they'll let you (otherwise, at the ski resort lot - or along the road if it's not snowing). The trail was broken and several skiers had made the descent but for the most part, at 11am the powder was still trackless. A few other groups were headed uphill on telemark skis with skins. Some people had brought their dogs. The snow was deep, more than a foot higher on the slopes, but under the new powder the base was hard and several feet deep in places so the dogs didn't sink too deeply. Snow alternated with sun and clouds as we climbed, making the hills shine with spectacular lighting. Sometimes it was very warm with the sun shining and other times a breeze chilled us when we stopped. Emerging onto the summit we took in a beautiful view of lakes and mountains and the ski resorts and train tracks which ran under our mountain ridge through a long tunnel. The walk down was of course shorter than the walk up and I realized how close we actually were to the starting point - Donner Peak is probably only a worthwhile hike in winter on fresh snow. Even by late afternoon the day after the storm, recent tracks had settled and stiffened and were harder to step through and crowds of sledders and skiers had left a tangled mess of tracks. The soft fresh snow only lasts a matter of hours. Fortunately, it gets buried with a new layer before too long. On the way back we stopped in Auburn to see the Forest Hill Bridge, ninth highest in the world with a center span height of 730 feet. It's a little unsettling standing on a bridge that high. There was a beautiful orange sunset in the background.
February 2006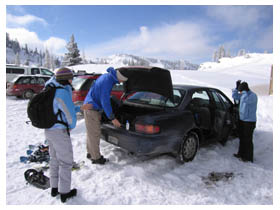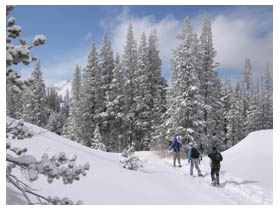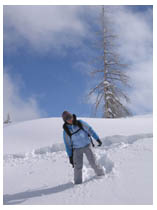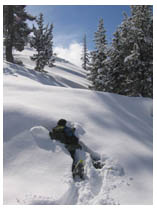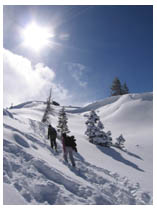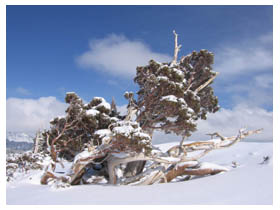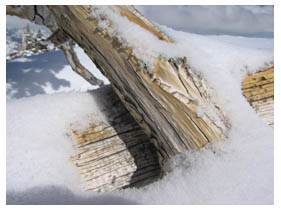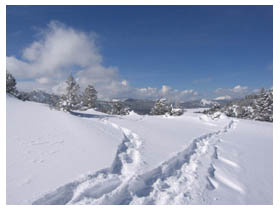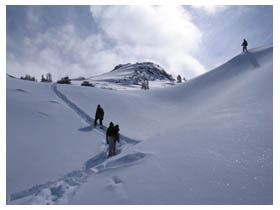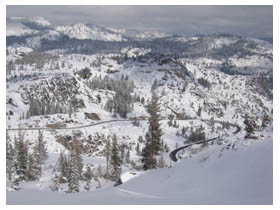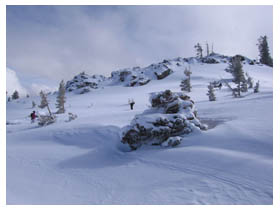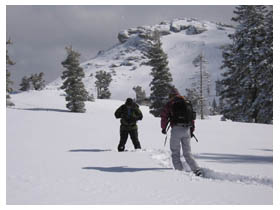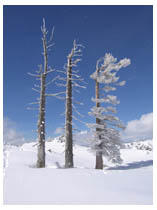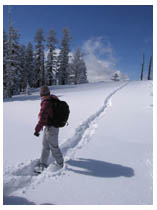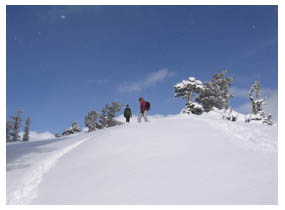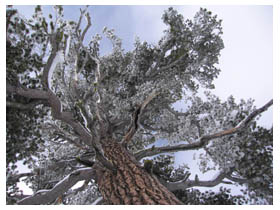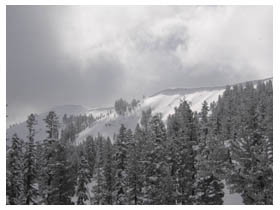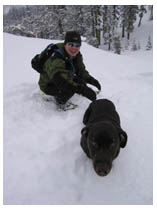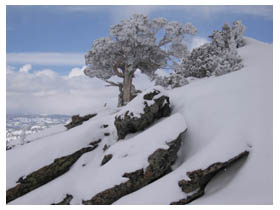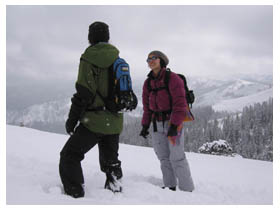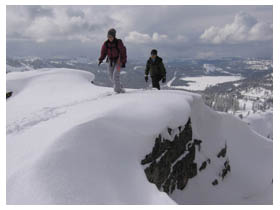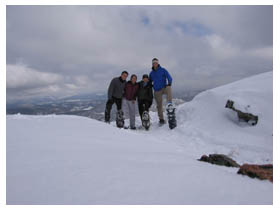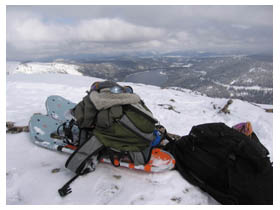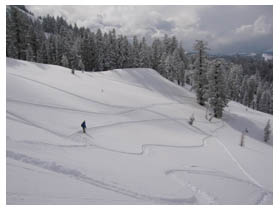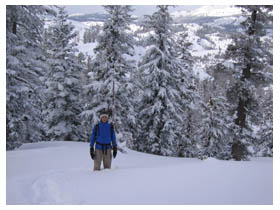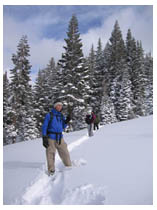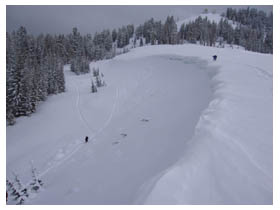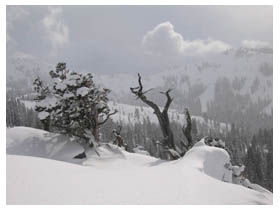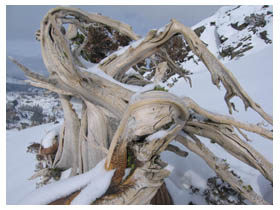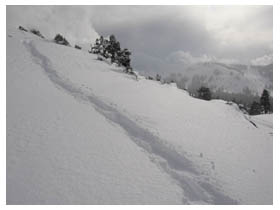 ---
Less than two weeks had passed since Joy went home after our trip but I decided to go up North to visit since there was a holiday weekend. We went to Monterey and visited the aquarium, where there is a circular window in the Outer Bay tank that inspired my own round fishtank here at home. It was a beautiful time to visit Monterey, cool and clear with high surf kicked up by a storm. Later in the afternoon we drove south on Highway 1 past the beautiful beaches and arching concrete bridges and precipitous cliffs to Big Sur and Julia Pfeiffer Burns State Park. The main attraction at the latter place is a stream cascading twenty feet over a ciff onto a small sandy beach pounded by pale blue surf. We watched the sunset there, our legs dangling over the edge of the boardwalk high above the waves, and then returned to Pacific Grove where a lovely Bed & Breakfast awaited. And, with Sunday Night Rates, it wasn't expensive at all! Monday we drove around Pebble Beach and watched otters play in the surf before I took a plane home and turned around early in the morning and went back to th airport, headed for Grand Junction, Colorado. Twin Otter International is based there; the aircraft company turns DeHavilland planes into the well-known Twin Otter tourist and research aircraft. I lurked about the hangar for the next three days, answering questions and keeping an eye on technicians installing a mammoth radar antenna on the aft port side of the plane. Looking like a giant surfboard and built much the same way, the miniature wing was of some concern because it could destabilize the plane. However a series of flight tests showed that the well-designed aerodynamic fairing made the whole thing more or less invisible to the pilot - by feel, at least - and now the embryonic technology is ready to deploy to the field for demonstrations.
January 2006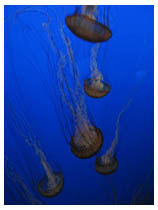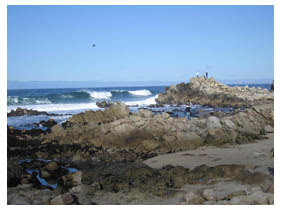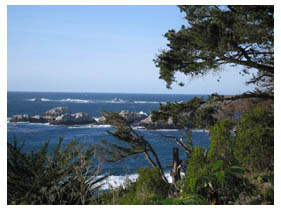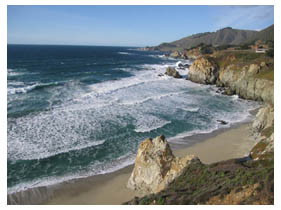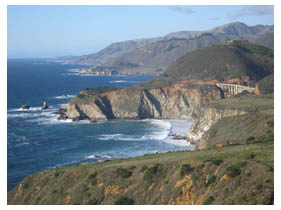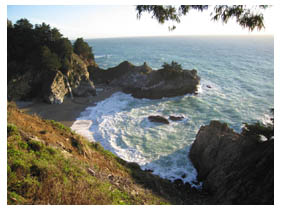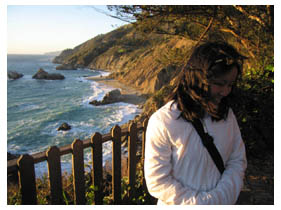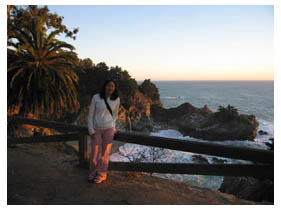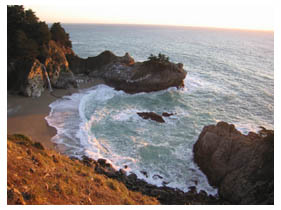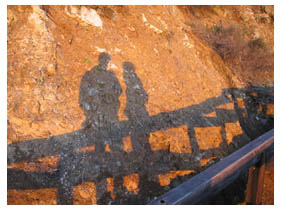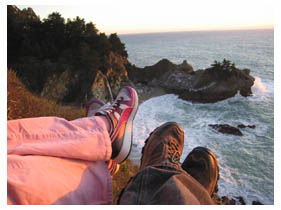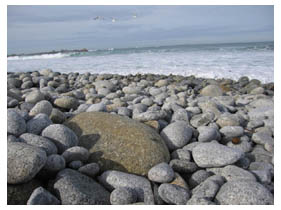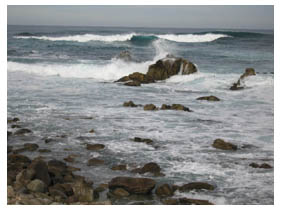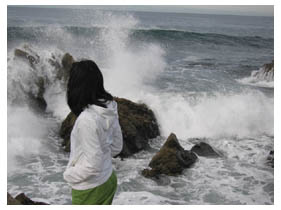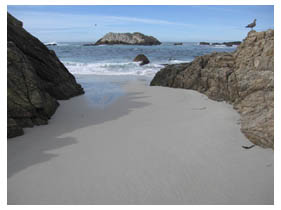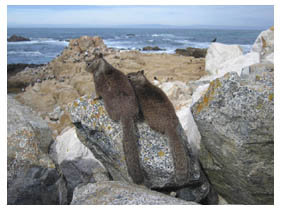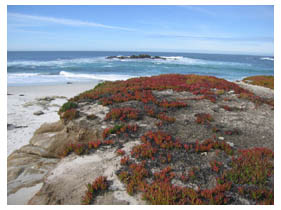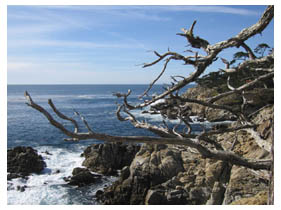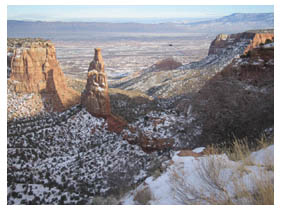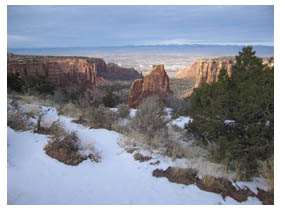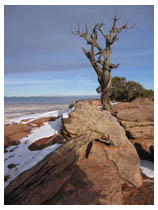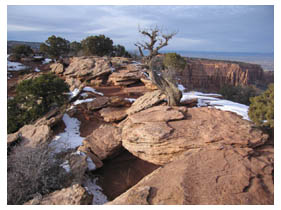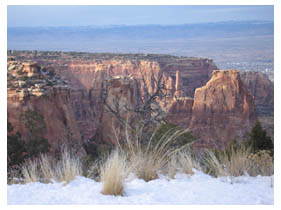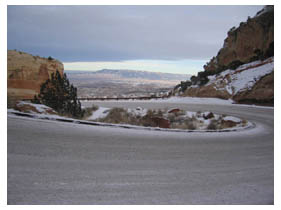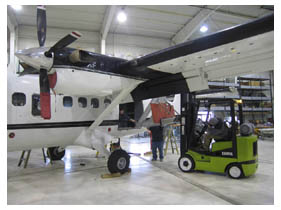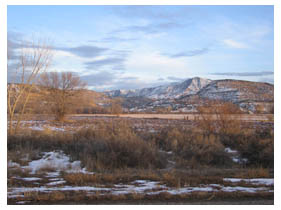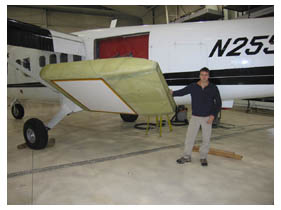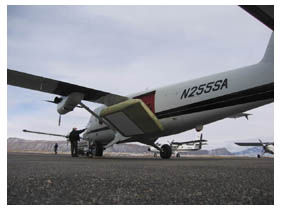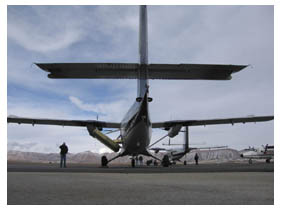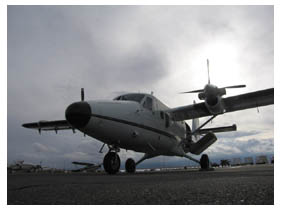 ---
to the index page