Saturday I loaded the truck with pallets, a cooler full of food, my guitar, an axe, and some chairs and we drove down to Huntington Beach where, despite a hefty parking fee, one can otherwise have a fine evening just sitting around one of many fire pits grilling things, enjoying drinks, and watching the sun set. That's exactly what we did, after an unplanned aquatic excursion.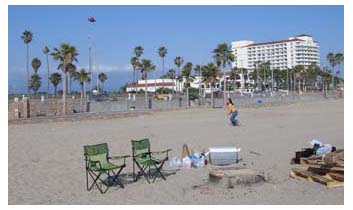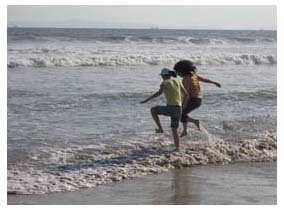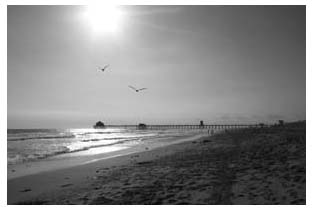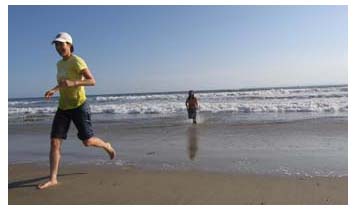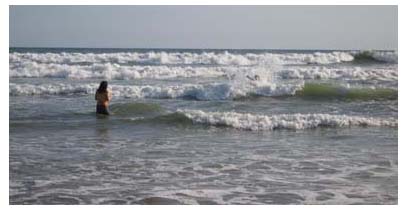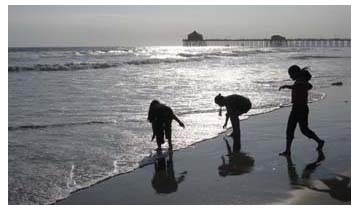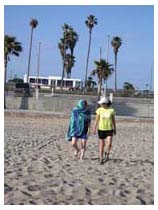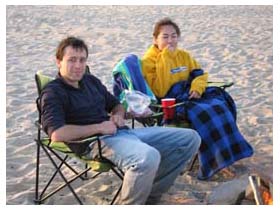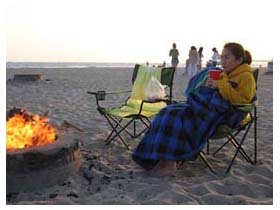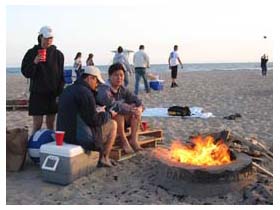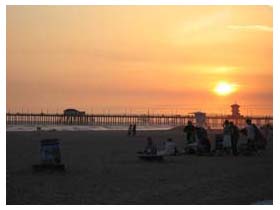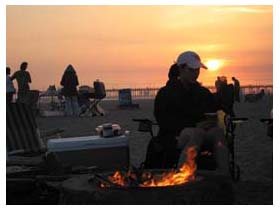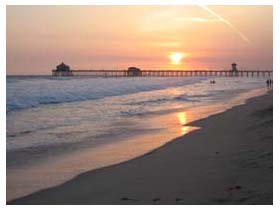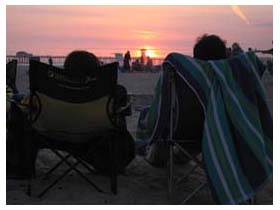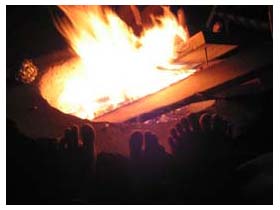 Early Saturday morning it was drizzling and gray. Undeterred, Sean and I and the jeep set out on a day-long adventure, plans and people slimmed down by the weather. In the hills above Castaic Lake the lupines were flowering in abundance among evergreen trees and lush grasses and other wildflowers. It was wet, and we found a fine plot of about two acres of fresh sloppy mud to romp around in and get the tires dirty. All the 4WD trails between there and the desert were closed probably due to the high water and washouts but back in the canyons there really wasn't much to see anyway. The real treat for the eyes was farther on in the green hills at the edge of the Antelope Valley. Wildflowers have exploded across the grassy slopes more thickly and earlier than ever this year. Carpets of orange poppies and yellow buttercups and lupines and other blossoms in pinks and reds and purples and blues and whites spilled down hillsides and across flat meadows. Above Lake Elizabeth, a quiet pond with no powerboats and an undeveloped shoreline most of the way around, we climbed a steep slope and watched rain squalls blow past between breaks of sunshine and blue sky. Farther down the road towards Lancaster we came out of the misty hills into rangeland where patches of flowers looked like spilled paint on the grass. The light and clouds were perfect, no one else was around, and sunshine warmed the breeze that carried countless mingled floral aromas.

Two guys with a muddy jeep can only bound about fields of flowers in the sunshine for short while before feeling a need to move on. We bought some shakes and I ate a chili dog at the Fosters Freeze in Rosamond - where yellow and green carpets adorned the usually drab hills - bought some gas, and sped off to Jawbone Station to inquire about trail conditions and get a trail map. The lady there advised us against driving up Last Chance Canyon unless we really knew what we were doing but we headed in anyway after deciding the alternate routes could only be boring dirt roads. The canyon was more or less unchanged from a year and a half ago; some gravel was rearranged and rocks were more exposed than before but we had no trouble getting in to the Red Bluffs. There we got off course and ended up atop a high hilltop overlooking the entire valley, surrounded by wildflowers. A nearby mineshaft had been dug through white quartz riddled with brilliant green inclusions. We watched showers blow across the valleys below and pulled our sweatshirts close against the surprisingly cold wind. Black Mountain to the north had a cloud hugging its top and looked very sinister and untouched.

We consulted the map, which had vanished for a time under a seat, and continued on to the Burro Schmidt Tunnel. Built in the 30s, 40s, and 50s by an ostensible dim-minded desert recluse, the six foot tall tunnel hand cut about three hundred meters through solid rock to enable easier ore transport across the mountain was comically ineffective at its intended purpose. Starting near the top of a hill, it opened on the other side thousands of feet above the valley floor on a steep slope. The walk back over the top, an alternative to going back through the tunnel, was leisurely and gently sloping.

A few dilapidated shacks in the area seem to be inhabited intermittently, by whom I can only speculate. We didn't poke around to find out. Across the valley we went to a talc mine where powdery white rock was once extracted from sloping shafts cut into a chalky bluff. Every piece of scrapped metal and many of the rock walls were riddled with bullet holes; it's public land and open for almost any activity. The afternoon was waning and the sun had sunk low to the west so we headed towards Mesquite Canyon but got off course again, finding ourselves high on a windswept ridge again among wildflowers with spctacular views of the El Paso mountains and the surrounding desert. It took a while to find the canyon but the road out was easy. It's 2WD accessible.

The little mining town of Randsburg was our next stop. At 5pm there were cars parked here and there but everything was closed for the day. We gave a jump to an immense white pickup with every accessory but a working battery. There were a handful of dirt bikes and armored riders standing around and I noticed that serving off-road sports was the towns only real commercial opportunity. Every building was dilapidated. One house, a trailer modular but nicer than most, was surrounded by a chain link fence with security system signs. Another trashy yard sported signs that read "Danger. Explosives. Keep Out." The thing is, it was probably true. The mine was right behind town and gold ore extraction was under way. The saloon was closed; a sign out front said "No spitting on the sidewalk." The hotel had vacancy and a sign said "open" but the door was locked and no one was around. The Miners Union, a store/cafe, had just closed. One of the staff came out, on his way home, and told us that the Silver Dollar in Red Mountain was the only place around where we could get dinner. I'd like to go back on a weekeday and spend a little more time poking around the place.

Our next mission was to cross what I think is the most empty feeling part of the California desert for the singular purpose of finding out why California City exists. On maps it is unimaginably sprawling and disconnected and road signs for it on Hwy 14 and 395 point off into empty space. We chose Twenty Mule Team Parkway as the most direct route and paused for a moment at the turnoff: the road was dirt and full of potholes, and the sign said 19 miles to California City. After taking some sunset photos we rolled westward through giant holes and washboard. After a while pavement appeared but there were still giant holes six inches deep or more and big enough to accept a kitchen table. This part of California has few hills but is high - not a basin - so one can't see any landmark mountain ranges. It's just desert and sky. I half expected to stumble upon a meth lab. We passed some clusters of RVs and the road improved once we passed the turnoff that led to the Silver Saddle resort. From the looks of the area it can't be much more than ordinary.

Next we came upon an agglomeration of RVs, trucks, sand racers, and quads huddled in a gravel lot with lights on but no people outside. A sign out front read "Desert Incident Response Team. Four Wheel Drive Souvenirs and T-shirts." It was a comic combination of duties and an odd thing to see out in the middle of the desert. I wonder what sort of desert incidents require a permanently staffed encampment. Farther on there was a prison, its sodium lamps glowing ominously, and then the road inexplicably turned into a four lane divided highway. We rolled through town, a sprawling sleepy place with a stray dog trotting across a windblown street, aging two story prefab houses, a golf course complete with a highway overpass for golf carts, a video store and hair salon and auto parts retailer and a collection of other service businesses and stores. It turns out that the city went up in the early 1950s as a carefully planned "model desert city," the work of one ambitious developer. Back then the surrounding cities were quite small and many hadn't yet been incorporated, the interstate highways were not yet complete, and air travel was still a fledgeling industry. Now by a twist of fate California City has been stranded, far from main highways and farther from jobs or major airports. Its wide highway is all but deserted and there seems to be no reason for anyone to ever go there though new billboards on Hwy 14 advertise "New 3-5 bedroom homes coming to California City, starting from the low $200s." You couldn't get me to move out there, not even for an affordable house.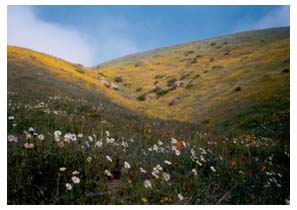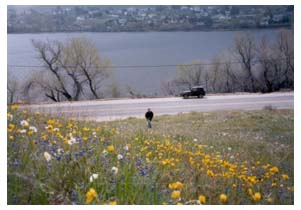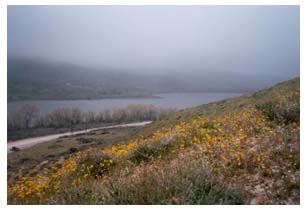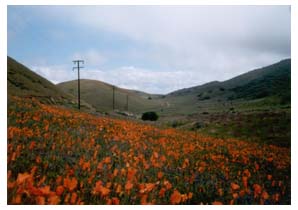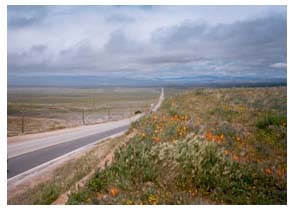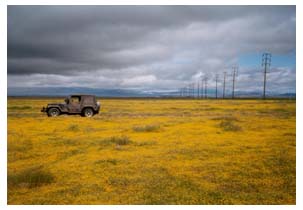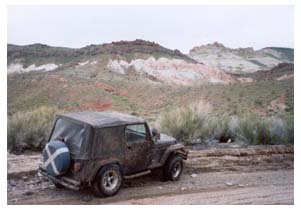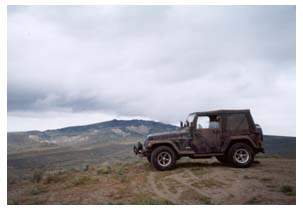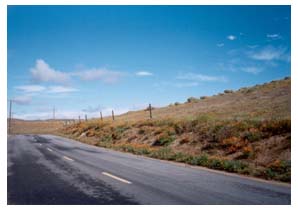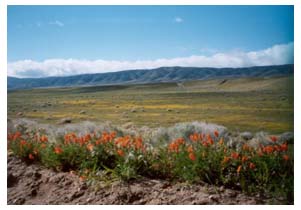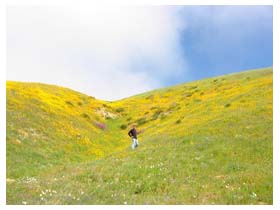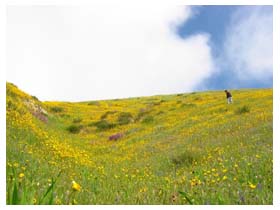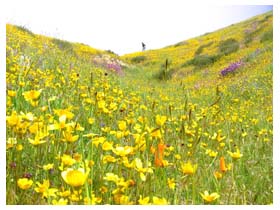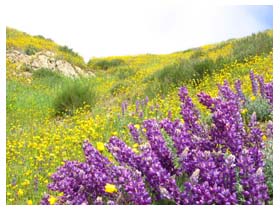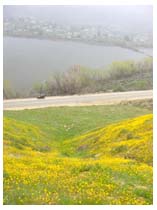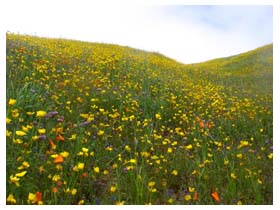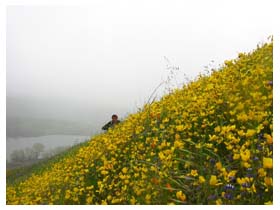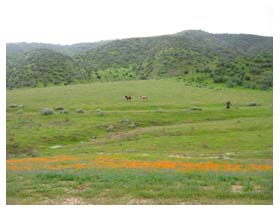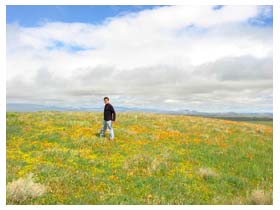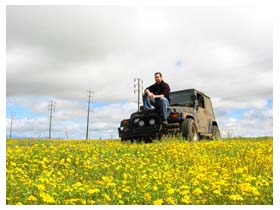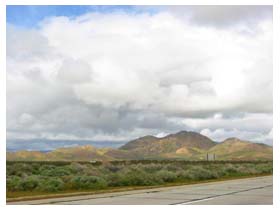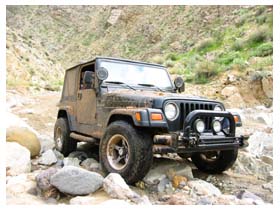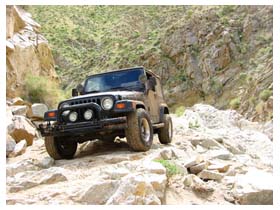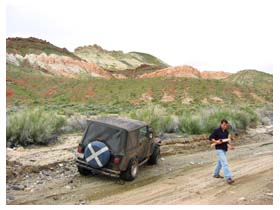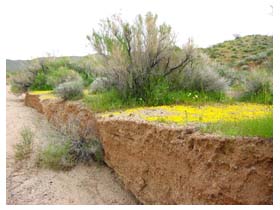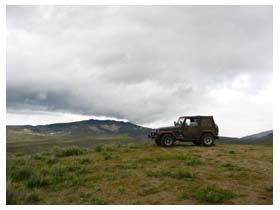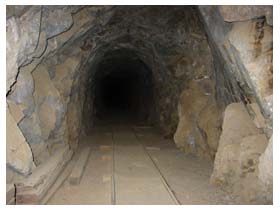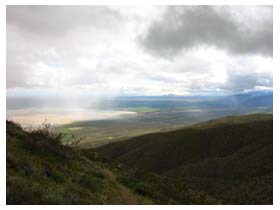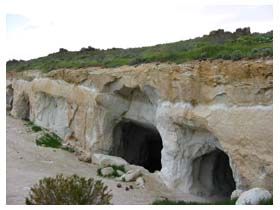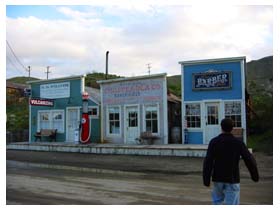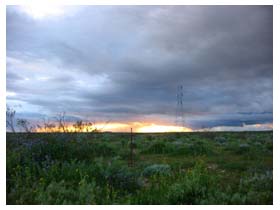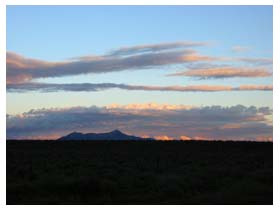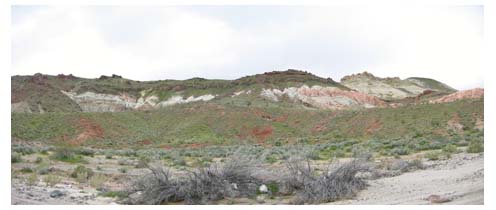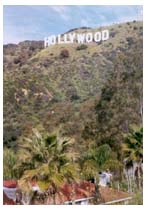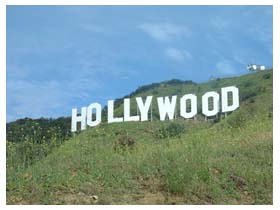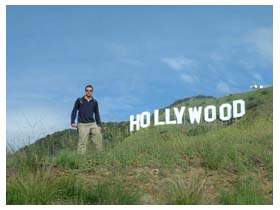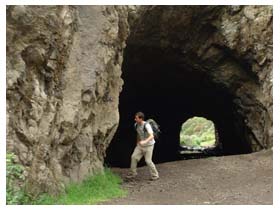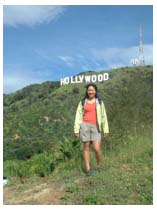 Joshua Tree, February 28-30: climbing, fire grilled steak, cast iron pan potatoes, marshmallows, stars, coyotes, mice, and related things.
Another weekend, another National Park: In Joshua Tree this time, I got a chance to climb routes that are too risky to do without a belay. It was nice to be there with climbers for a change. I'm good on my feet, scrambling fast and always climbing as if there is no rope - just the thing one needs to do the remote, minimal equipment type of climbing I like to do. I'm not so good at learning a particular move on a particular rock. I climb intuitively, not deliberately, and I don't want to think about where my holds are, so hanging around a crag watching a climb isn't ever going to be an activity in itself for me. It's just a way to practice for the time when I'll need to cross a slab en route to someplace cool. Like every other skill I've acquired, climbing makes me independent and self reliant. I can go where others can't and do so quickly, and so I can go to many such places, and with the things I learn I can better understand how to go further. That's the goal of all this traveling.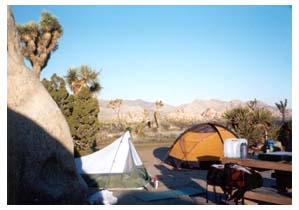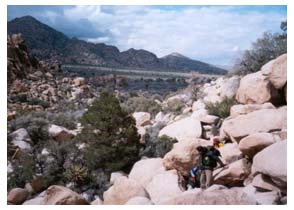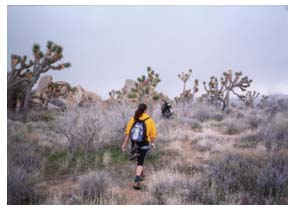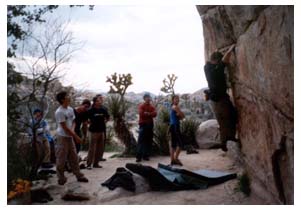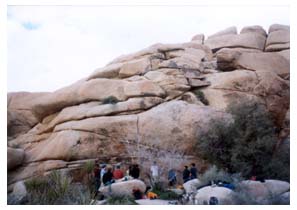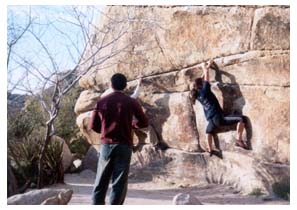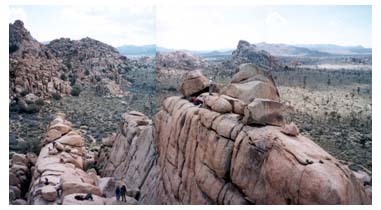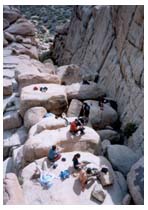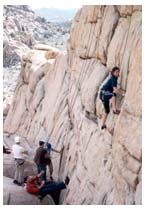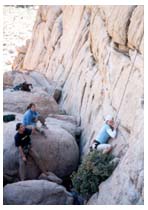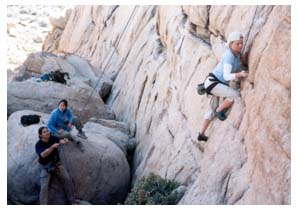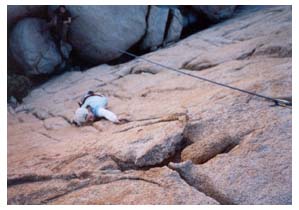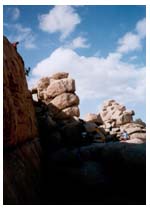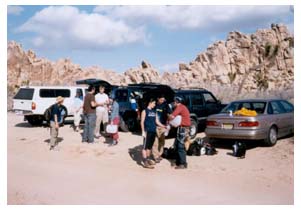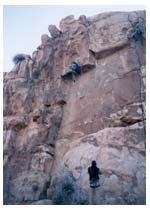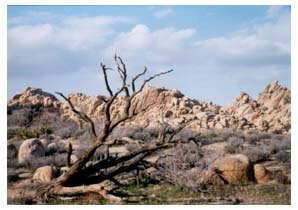 Two months later it was the same thing again, exactly. We drove up to Yosemite Saturday morning and settled into a beautiful cabin in Foresta, drove up to Badger Pass on Sunday for a hike to Dewey Point using snowshoes but not really needing them because the trail was packed, and returning home Monday. The weather was nearly the same, but with more sun while we were at the overlook and no falling snow. There were eight feet of new snow since last time. I built a snow dragon at the point and prepared to race into battle with my ice axe, but the poor creature remained frozen in place. Back at the cabin, we built up the fire and ate great quantities of food. On the drive home through Coarsegold we again stopped for the exquisite smoothies created at the village, admiring the impressive clouds that towered over the valley. Along the interstate all the way down to the Grapevine there were rainbows among the brilliant green hills where rain spilled over the mountain range. When we crossed over into Los Angeles we drove into the rain, which has been falling steadily and causing mudslides and flooding. There was hardly a hillside along the Grapevine that didn't have brown streaks where dirt and grass had slumped down to the bottom; this is a young landscape where erosion happens almost as fast as the crumpling of crust that builds these steep rugged hills. It's actually quite impressive that so many millions of people can live in a place that gets two feet of rain in two months with as little trouble as we've had.

Sean and Berto took so many fine photographs of Yosemite that I've had to cut out all but the best. Here are the top picks: