Notes and Photos, Spring 2003:
My last semester of school was a hurried mix of job-hunting, studying, and a few fun trips.
March 25, 2003:
Boeing called me on a Tuesday and Saturday morning I was on my way to Los Angeles for interviews at the Integrated Defense Systems plant in Palmdale. I took a taxi to the airport and somehow got seated in first class all the way to Los Angeles. My ticket was originally booked as economy class. It was fine flying weather and I was about to direct my rental car to Utah (snow on the mesas still) and the Grand Canyon and perhaps Colorado (lots of snow!) upon arriving, but that probably would have been frowned upon by Boeing and would almost certainly affect my job prospects. So instead I lounged in my huge seat, sipped wine and dined on the barrage of food they brought by, and picked out familiar landmarks in LA. It was like coming home, in a way. At the rental lot I picked out a brand new bright red Olds Alero, with just 1200 miles on the odometer, and took off up the coast highway to Malibu. At Leo Carillo state beach I circled around till I found Sean's unmistakeable Jeep tire cover, Sean, and his friends at their campsite. We relaxed on the beach, bouldered on the rocks, watched dolphins and surfers, went to the store and bought steaks, watched the sunset, built a campfire and grilled the steaks, and sat around talking. I fell asleep sometime around midnight local time despite the noisy campers (I despise campgrounds!) and the lack of a ground pad to soften the twigs and stones and trapped ground squirrels under me.

I woke at 4am the next morning and watched a beautiful sunrise, stayed till midmorning, and then headed East. On the way I picked up Damon the hitchhiking cyclist with a flat tire and the wrong spare. He was mid-way through his 120-mile workout in preparation for upcoming races, and he showed me around Santa Monica, chatted about his time in Desert Storm, and described the consequences of biking on the coast highway with its careless traffic. In Pasadena I met Doug for lunch, wandered around town for a bit to visit my old haunts, drove the 60 miles up over the mountains to Palmdale, and checked into the Mariott. I met for dinner with the Boeing site director, regional engineering manager, some recent hires, and some of the 10 candidates. The next morning at 6am we gathered at Air Force Plant 42, where most of the advanced combat aircraft are manufactured, and began 6 hours of interviewing. We toured the facility, saw the X37 (space plane test vehicle) airframe being built, rode up to Edwards AFB and saw a C-17 cargo plane, a B-1B bomber, and a variety of other aircraft. Then we returned to the hotel, went out for dinner and drinks, soaked in the hot tub, and otherwise made good use of Boeing's money. The years of study are starting to pay off; engineers are actually worth something!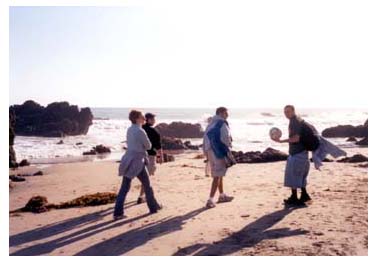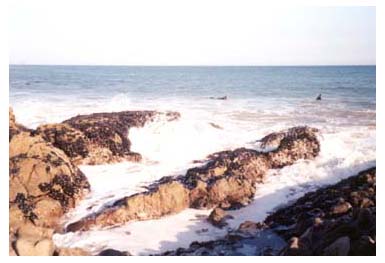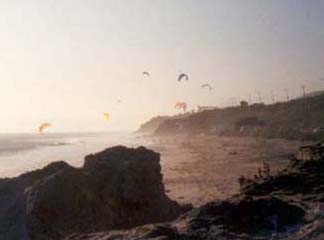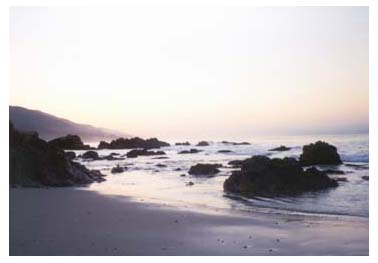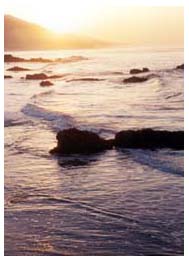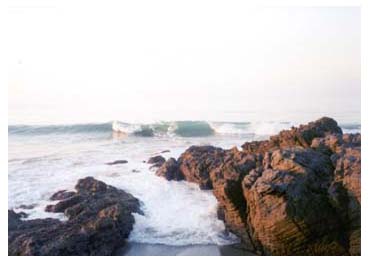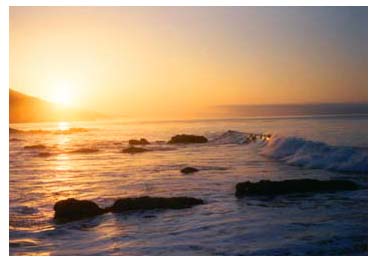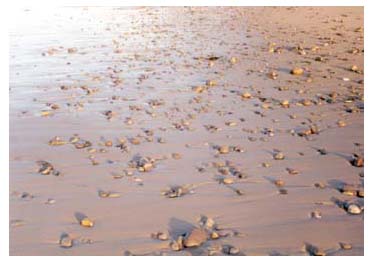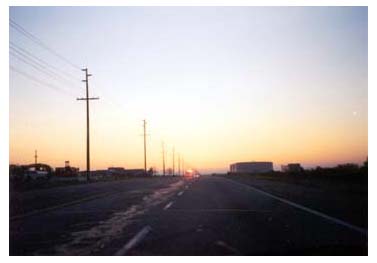 January 20, 2003:
We had no class Monday, so I and fellow hiker Liam went to the Adirondacks very early Saturday morning. My thermometer registered -1 degree F at the Upper Works trailhead, in a remote lead mining area at the west side of the High Peaks region. A group of seven from Cornell, out for a map and compass class, had broken five miles of trail the evening before so we proceeded quickly to a log shelter beside Panther Mtn. Where the trail had not been broken, we sunk knee deep on our snowshoes. Spruce traps swallowed entire snowshoes, sometimes dropping us waist deep without warning. We set up our tent outside the small shelter and then went exploring to find Panther Brook, which would lead us to the top of trailless Panther Mtn. the following day. From there we hoped to continue across the ridge to Couchsacraga and Santanoni. But hiking up the steep gully with its thin ice and many waterfalls, in waist deep snow, was difficult and we ran into trouble before we had made much progress. The binding of Liam's borrowed club snowshoe shattered as he pulled the shoe out of a hole (Don't buy Tubbs snowshoes with the light duty bindings). I lashed it together and we retreated to camp, where I fashioned a usable binding from a small metal grill, parachute cord, and spare webbing straps. The rig worked better on my boot, so I hiked out on it the next morning. It's too bad we didn't get to climb, because the trees were covered in ice up high and very pretty, but it was also nice to be back in the warm apartment with a chance to catch up on work.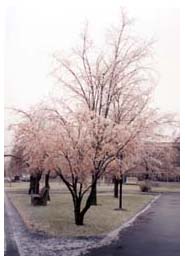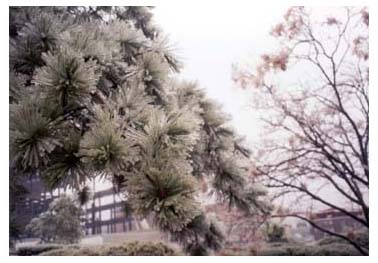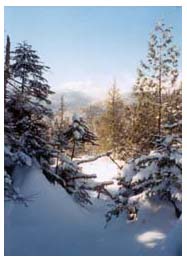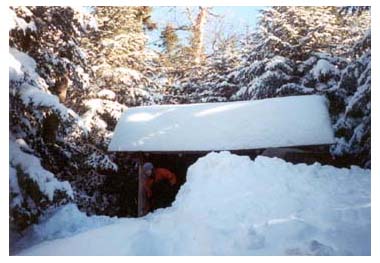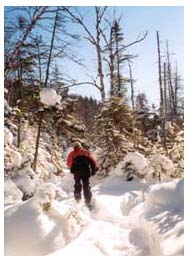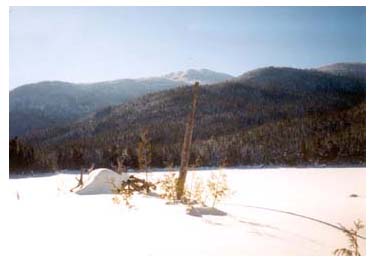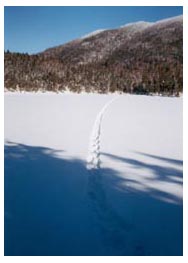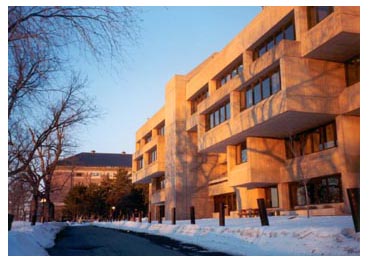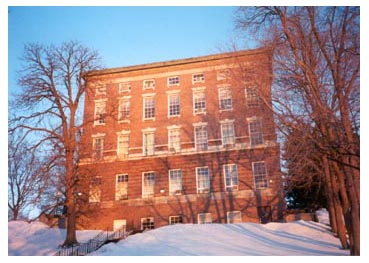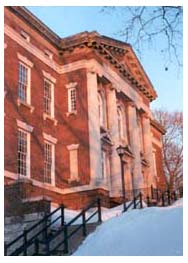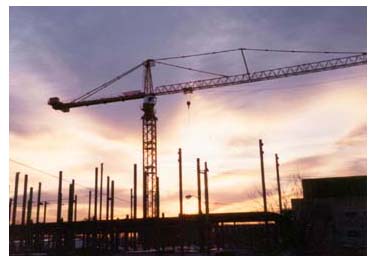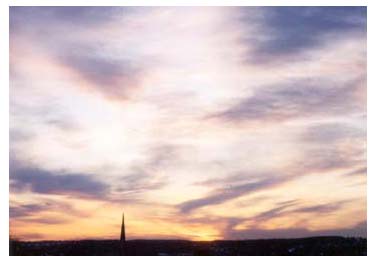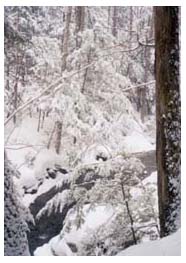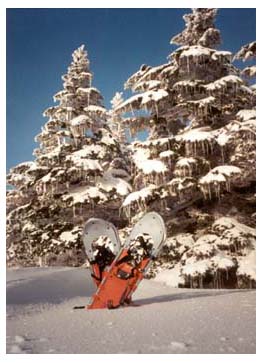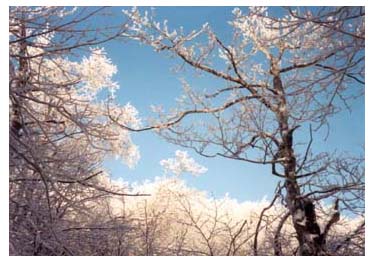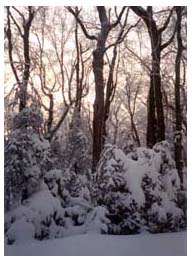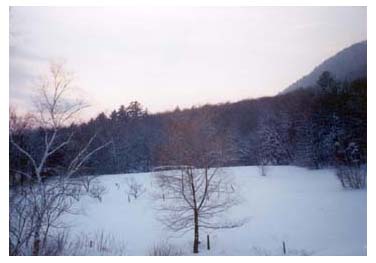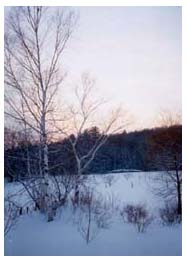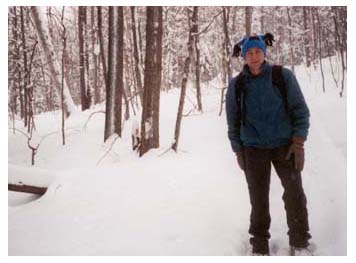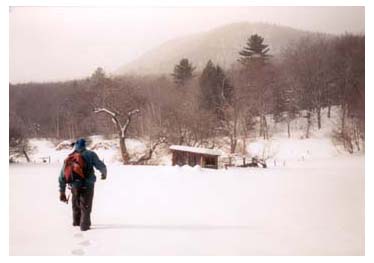 January 12, 2003:

I helped Dad split 4 or 5 cords of firewood before the snow fell. Then it snowed almost every day for two weeks and I shoveled snow, went skiing, hiked on my snowshoes, and kept busy with various projects. One day I raced to the summit of Mt. Greylock to see blue sky, which had been uncommon. I always love seeing a sea of clouds below from a mountaintop. I hiked higher and higher, and the white sky gradually softened to a pale lavendar beyond the ice-encrusted birch twigs and fir spires. A deep blue appeared between wisps of cloud and at the top I found bright sunshine and icy trees. I took lots of photos but for some reason most were blurry.