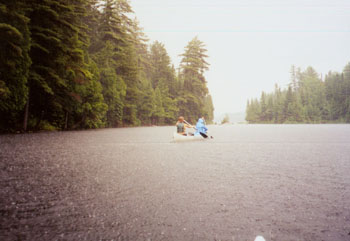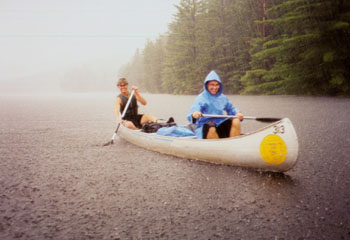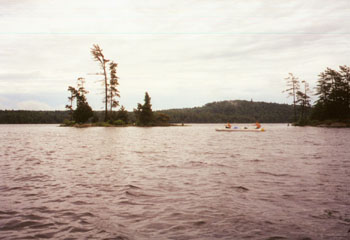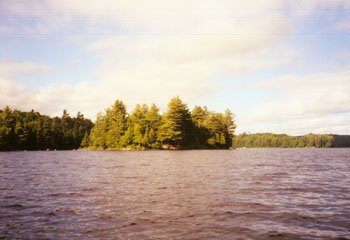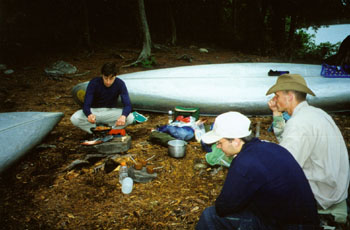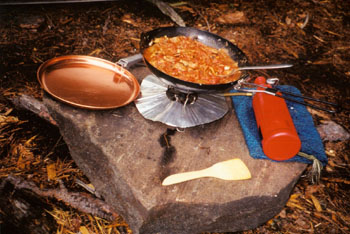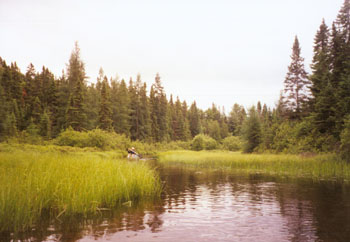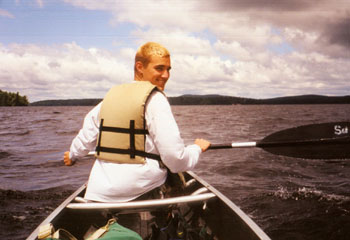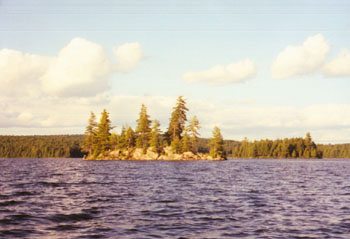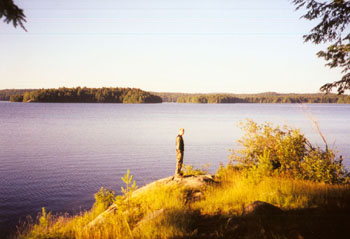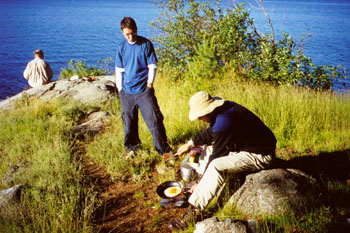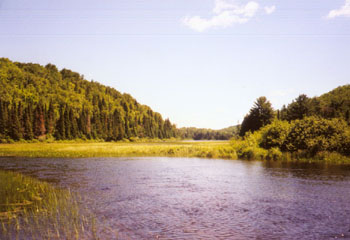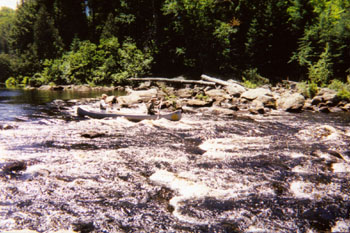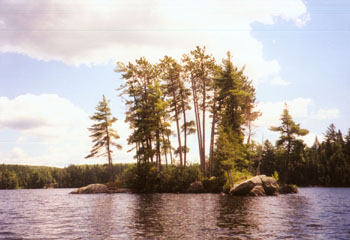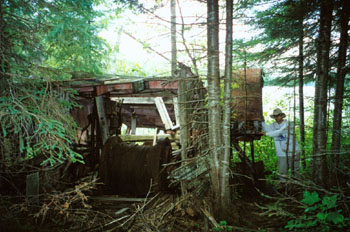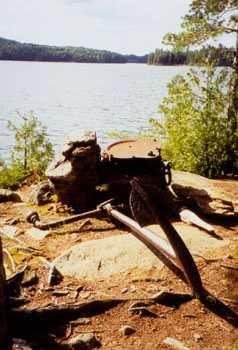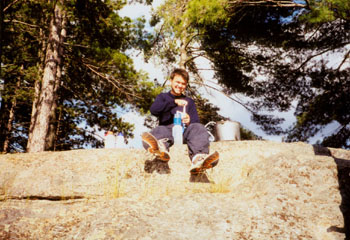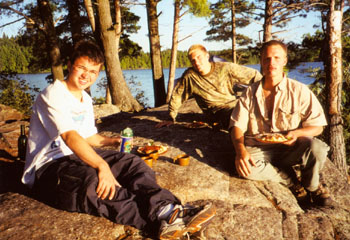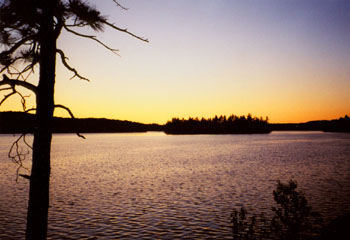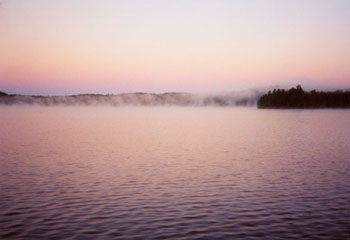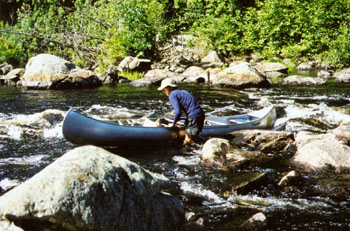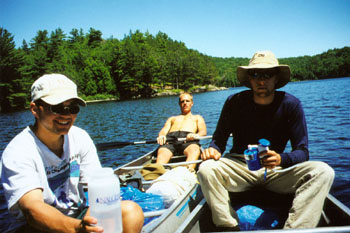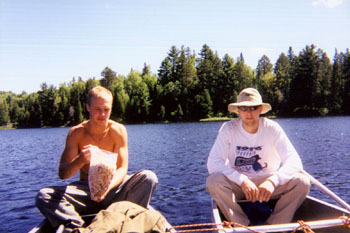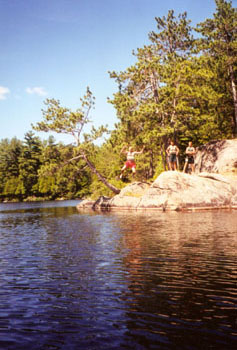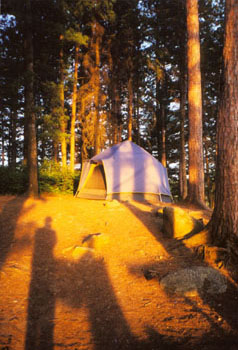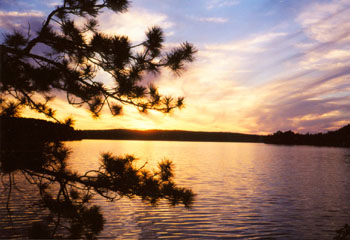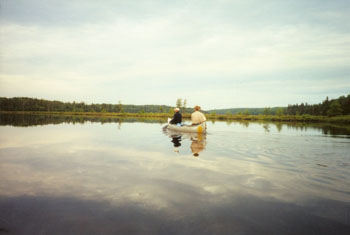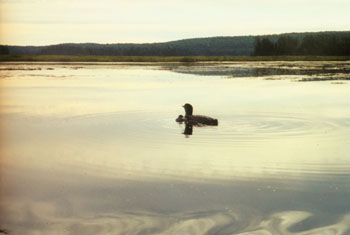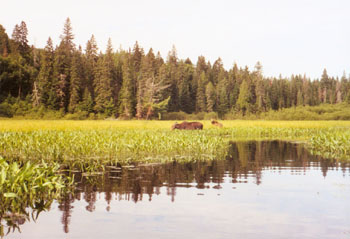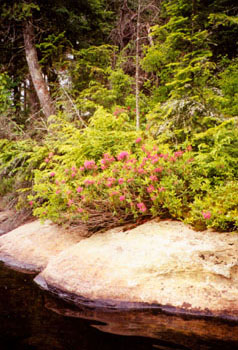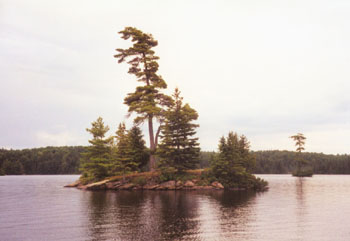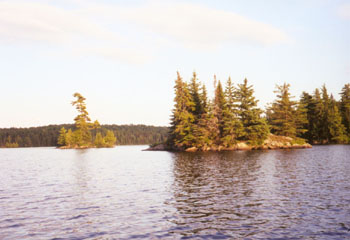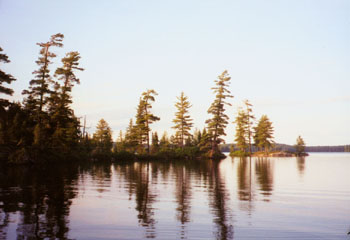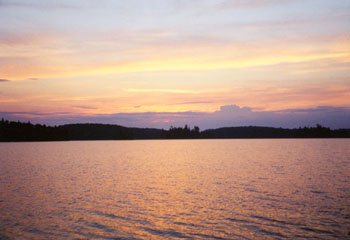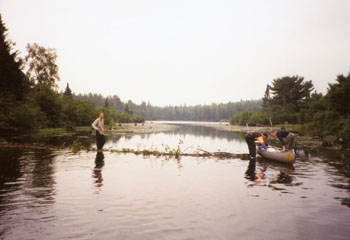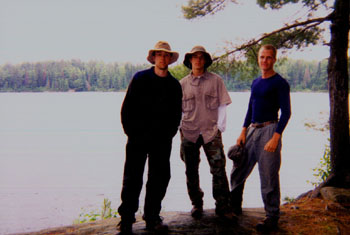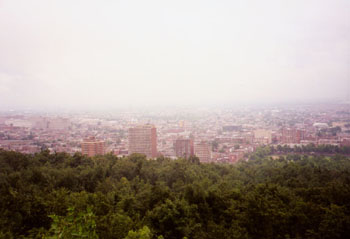 We passed by fields and farms for many kilometers before crossing the border at Ogdensburg. The narrow metal bridge with a transparent grating deck arched hundreds of feet above the St. Lawrence and I wondered what a little winter ice would do to the driving experience. After passing endless hayfields we began to see the suburbs of Ottawa. Downtown, I wrestled the car through a maelstrom of speeding traffic and pulled out to a quiet lot beside the Supreme Court building, overlooking the Ottawa River. A sun low in the western sky lit parliament with hues of orange and illuminated the main street with its colorful purple, green, and yellow flags and towering marble buildings. After driving for a bit we parked and took to the streets, exchanging currency at a shopping mall and then wandering about looking for food. A quick pizza dinner and a trip to the grocery store satisfied our hunger for civilization and we were soon on the road again, heading west into farm country and toward the great wilderness of lakes and rivers. Giant round hay bales were scattered across huge fields and solitary barns and farmhouses dotted the flat land. There were only a few small towns and the road ran straight for 8, 10, 12 kilometers at a time. As dusk approached we moved into forested hills and began to look for a place to spend the night. The sun set behind clouds and scattered sprinkles began to fall, so before dark we pulled off into a small field hidden by low trees and set up the tent. We soon discovered that we had camped about twelve feet from a swamp, and though the tent remained on dry ground the mosquitoes came in great whining clouds. Nevertheless, it was a restful night and at first light we were on the road again under cloudy skies.
We ate a short breakfast of bagels, orange juice, and apples in a parking lot away from the bugs and then continued West to Algonquin Park. It began to rain lightly as we pulled into the lot at Canoe Lake. After confirming our reservations and renting two 17-foot aluminum canoes we removed our gear from the car and piled it under a pavilion in an attempt to keep it dry. A few rumbles of thunder announced the arrival of heavier rain and we struggled to finish our final packing as water ran along the ground and raindrops splattered over our packs. The rain let up after a bit and we took to the water, paddling out with a light tailwind. We passed a moose on the lakeshore but most wildlife had withdrawn to shelter. Intermittent showers soon dissolved our hopes of staying reasonably dry, though we stopped at the far side of Canoe Lake to empty the rainwater from our boats. The season had been wet and the water was unusually high so we were able to walk and paddle the boats upstream past two carries. The final few meters we charged up a short strip of rough whitewater, squeezing under an immense fallen pine and battling great clouds of mosquitoes. By this time the guys were getting wet and a little discouraged by the rough going. Jeremy had torn his rain poncho completely in half, rendering it useless against water and insects, and had been victim to a great many mosquitoes, but he was nonetheless in high spirits. Ben was by this time wondering just what he was doing slogging through giant puddles wearing a heavy blue vinyl raincoat and swatting whining clouds of hungry female mosquitoes when we could be at the beach, welcoming flocks of friendlier female life forms. Steve was somewhat indifferent to the rain, content to paddle to wherever we were going. A thunderstorm hit as we arrived at the carry to Burnt Island Lake, and after moving our gear in the wet but pleasantly mosquito-free downpour we waited at the far end for the rain to stop. The low hills did little to reflect thunderclaps and though some cloud lightning was nearly overhead, the reverberations quickly subsided after each flash of lightning.
The electric storm passed but the rain did not, and we eventually set out in a heavy downpour. The rain continued steadily for nearly an hour, depositing several inches of water in the stern of my canoe. The water was calm and there was no wind but the rain fell heavier than I'd ever paddled in before. By 2:00 it finally stopped and we made a hasty lunch, hoping that the lull would last long enough for us to make some ham and cheese sandwiches. To our amazement, the sky rapidly cleared and sun peeked out, and we continued on with higher spirits, a tailwind, and sunshine. On Burnt Island lake our canoes became separated by a few hundred meters, so we attempted to communicate by radio. This was not very effective until I figured out just how long the delay was between pressing the talk button and the actual transmission. We carried into Little Otterslide, making good use of the radios to coordinate our manpower and efficiently move the gear, and paddled to a nice campsite on Otterslide Lake. Soon every piece of gear was drying in the sun. Our sunshine soon vanished behind more clouds, but we remained dry and feasted on an immense dinner of noodle soup and beef stroganoff, complete with sautéed mushrooms, onions, and garlic, a light tomato-sour cream sauce, tender strips of beef, and heaps of egg noodles. After washing dishes we struggled to hoist our eighty pounds of food out of reach of small furry animals and then went to sleep.
It became very windy after dark and our blue tarp sounded as if it would be ripped to shreds. The tent shook and the waves lapped on shore, but in the morning we found that nothing but a sock had left the clothesline under the tarp and all was well. I proceeded to cook up a breakfast of egg-mushroom-cheese burritos; after devouring these, washing the dishes, and packing up we were paddling by 9:00. Skies remained cloudy and there were some sprinkles, but it was the mosquitoes that caused us the most trouble on Otterslide Creek. The wet weather had made the season particularly buggy. We dogged on with bug nets and thick, hot layers of clothing. The sun broke through the clouds as we finished the last carry into Big Trout Lake and we paddled onto mosquito-free waters. A brisk headwind churned up sizable waves and we bounced and crashed upwind to a rocky point, where we stopped for lunch. The wind died down while we were eating and after lunch we made good time crossing the lake to a beautiful campsite on the far side. Finally able to completely dry our gear, we spent the afternoon relaxing, swimming, and battling the courageous chipmunks that attempted to carry off our food. Dinner was monstrous once again, a full complement of soup, drinks, and rice with beans, followed by marshmallows toasted over a hot driftwood fire. Jeremy picked up a long piece of driftwood and began hitting rocks out into the lake, enacting the baseball that Ben was talking about. The wind and rain the day before had kept the loons and gulls quiet, but this evening they serenaded us as the sun set. The mosquitoes were not bad near the fire but away from its protection we struggled to hang the food and swat them away at the same time. After dark the chipmunks and squirrels quieted down but the mice came out in hordes, skittering around the fireplace. A good night's sleep was followed by a beautiful sunny morning and a delicious breakfast of pancakes, grilled to perfection over my trusty MSR Whisperlite. We took our time packing and eating and weren't on the water until 10:00.
The big lake was still calm and we had no trouble paddling and carrying to Longer Lake. Mid-morning we rafted together and devoured more of the ten pounds of trail mix I had packed, enjoying the sunshine and peaceful lake. The high water was apparent as we approached the first rapids into Burntroot Lake; after carrying our gear around to lighten the boats we paddled the class II whitewater easily without scraping a single rock, though we did acquire some water in the boats. We ran the next raps, only class I, with full boats, thoroughly enjoying the ride. We soon arrived at an island on the southern reaches of Burntroot Lake and pulled up the canoes. I prepared a tasty lunch of grilled cheese sandwiches and summer sausage while the other three picked blueberries for our breakfast the next morning. We paddled on against a light headwind and then turned down the lake to see what remained of the Alligator tugboat. The steam paddleboat was equipped with several hundred yards of steel cable and could pull rafted logs, drag trees from the forest, and even pull itself from lake to lake on skids. The wooden frame had rotted considerably but it looked no worse for wear than it had in previous years.
We walked to the remains of a storehouse at the depot farm and then paddled up the bay to a campsite on an island at the south end of the lake. It turned out to be the nicest site of the trip - open, breezy, excellent for swimming, rocks overlooking the lake, and isolated from the main canoe route. Dinner that night was the most elegant of the trip – wagon wheel pasta with marinara sauce and fresh mussels (marinated in whiskey and fried in light oil with onions and garlic), each plate topped with parmesan cheese, garnished with sprigs of wintergreen, and served with a good Merlot. Kippered herring on wheat crackers followed; we ate these while watching the sunset from the rocks overlooking the lake. Jeremy and Steve had managed to catch a few whitefish using Steve's coke-bottle reel and a hook and line, and we fried these up for another quick snack. It was a beautiful evening, and we slept well after the long paddle that day.
The following morning we awoke to sunshine once again and ate a hearty breakfast of oatmeal with dried fruit and blueberries, preceded by steaming cups of hot chocolate. On the lake at 8:00, we meandered south on still water. We were able to paddle up the lower rapids into Longer Lake with much struggling and frantic paddling, and I walked my boat up the next set of rapids while Ben and Jeremy carried theirs around. There was not a cloud in the sky, which made paddling very hot. The mosquitoes were very active on the carry into Big Trout Lake and we hastily paddled out to an island for lunch. Even Big Trout was completely smooth and still. Feeling warning symptoms from the heat, I tossed the FirstNeed intake tube over the side of the boat and pumped bottles of purified water, prescribing a liter of water to everyone to prevent dehydration. After another tasty episode of peanut butter and jelly sandwiches and trail mix we moved on to Trout Lake, where we chose a site on the southeast shore with excellent rocks for swimming from and a good view of the lake. After the usual preparations of fetching water from the middle of the lake, away from shore, purifying 5 or 6 liters, setting up the tent, hanging out wet gear and clothing, and getting the cooking equipment set up, we passed away the afternoon swimming and sitting on the rocks. A painted turtle swam slowly around the edge of the lake, and I paddled out to get a closer look and introduce myself to this hard-shelled neighbor of ours. The animal was quite docile and surfaced next to the boat several times. After a monster dinner of our usual soup and macaroni and cheese, cooked up with cheddar and parmesan and topped with paprika, we ate a pan full of whitefish and finished off the meal with s'mores. In the light of another beautiful sunset we enjoyed a coveted bag of Milano cookies, somehow intact after all the carries and rough handling our food had seen. The high clouds to the west made beautiful streamers in the sky as the sun sank below the hills, but they signaled a change in the weather.
The next morning was cloudy and cool, and we were off to an early 7:00 start into the grassy channels of McIntosh Creek. We passed several loons with tiny gray chicks, each riding on the back of a parent or paddling close alongside. The sun broke through mid-morning as we waited for almost an hour while a cow and calf moose ate leisurely in the narrow channel ahead. We eventually got through after a particularly intense campaign of splashing and banging paddles; we were reluctant to make noise but knew that it would not carry to the nearest campsites more than 2 kilometers away across forested channels. Two long carries later we arrived at McIntosh Lake and camped at a nice site facing east. We spent the afternoon eating, swimming, and sleeping. Clouds alternated with sun and there were sprinkles at times, but we remained dry. For several hours we all retreated to the tent for naptime. Dinner was a tasty pot of chicken and rice, complemented by the usual soup and snacks. After dinner I paddled across the bay to investigate the loud bird sounds, which actually sounded nothing like birds but more like a pack of wolves attacking a hyena, coming from the trees and found a rookery with three great blue heron nests high in pine trees on two islands. The chicks were partially grown and perched on branches beside the parents. In the swamps and on the lakeshores the birds are silent, but at the rookery they make sounds like rusty hinges. As it began to get dark and the wind stopped we heard more than we liked of a noisy group across the lake and decided to go investigate. Dressed in khaki shirts, hats, and pants and sporting a two-way radio, pens, and our official-looking registration receipt and permit papers, Jeremy and I paddled out to the site. We radioed our position back to camp and then moved in to chat for a bit. We must have had an official presence, because after we mentioned that sound carried far across the lake and we'd like it if they kept quiet, they were very agreeable. We felt a bit guilty that they might think we were really park staff out patrolling with an iron fist, so I stopped by again later while paddling around the lake to chat a while longer. Going to bed after dark, we did a sloppy job sealing the tent against mosquitoes and by the middle of the night they were attacking relentlessly. Somehow the great clouds came through an inch long opening in the zipper. Every hour or so we got up to do yet another mosquito check and try to close the zippers securely or swat at the whining insects flying around the tent.
At the first hint of light we were up, after a nearly sleepless night, and we paddled out at 6:30. The channel into Ink Lake was also inhabited by great clouds of mosquitoes, as was the entire 2.32-kilometer carry. I thought maybe they had just hatched out in such great numbers after the previous weekend's rain. We passed a pair of loons with two chicks on McIntosh Lake and were entertained by a splashing, snorting river otter for a few minutes in the channel. We did the carry in four sections, walking each piece once with gear and once with boats. The mosquitoes were very thick but I remained mostly unbitten inside a polypropylene shirt and fleece, a layer just thick enough so the bugs couldn't bite through it. We were on Tom Thomson Lake by 10:00. While waiting for the light rain to stop and for a good campsite to empty on the crowded lake, we tied the canoes together side-by-side, spread the tarp over both, and retreated to the warm, dry, blue-tinted recesses below. I remained up to steer the boat from time to time since I was dry enough inside my waterproof shell, but the other three were soon asleep. After drifting around the open water for an hour and getting curious looks from a few paddlers, the others awoke and we headed to shore to make camp. It was a rather uneventful afternoon - gray, cool, and breezy. We finished off our snacks and extra food and then ate most of a less than satisfactory attempt to make something good out of potato flakes and gravy mix. Eager to return to civilization, we turned in early for a good insect-free night's sleep.
The next morning was gray and calm as well, and we packed up immediately and paddled out onto the lake. We passed a cow moose, then a cow and calf, in the channel to Little Doe, and then pulled the boats over a large beaver dam that had raised the level of Tom Thomson Lake by nearly a foot. We came across two more cow moose swimming across the channel as we paddled into Teepee Lake. Once we were out on the lake away from the mosquitoes we stopped to eat a breakfast of cereal bars and granola. The rest of the paddle was uneventful and we arrived at the Portage Store, emptied the boats, rinsed the sand out, and returned them. The car was soon packed again, and after buying ice cream cones we headed east on Highway 60 for Montreal. In Renfrew we stopped for pizza and then continued past Ottawa, playing the tunes and thoroughly enjoying our return to civilization. The tunes coming over the airwaves ended abruptly as we crossed into Québec. There was also a dramatic change in the language; no English at all appeared on road signs, commas replaced decimal points, and more French appeared on the radio. We drove along the Saint Lawrence for a while and then crossed the Ottawa River into Montreal. The city was huge; we drove past kilometer after kilometer of suburb before becoming stuck in traffic and exiting the main road. Armed with a road atlas map of Montreal, we drove back and forth across the city looking for the Hotel Auberge. We eventually found it and discovered it was booked. The next two hours were spent calling other hotels for rooms and rates and driving down Rue Sherbrooke, stopping at every hotel to see if any rooms were left. We finally found a double room on the 10th floor of the Renaissance Hotel du Parc, a very nice place right in downtown. After making good use of the shower we headed out to town.
Montreal was a happening place on Saturday night. We ate at a nice Spanish place, the Sancho Panza, and then got on the metro to find Rue St. Catherine, the center of the nightlife. In keeping with our adventurous style, we ended up at Cote St. Catherine, a trashy street far outside of downtown. After a scramble to get back to the metro before it closed down, we eventually arrived at our destination (three or four blocks from our hotel) and walked around between the cafes, pubs, and bars. It was after midnight, but the streets were packed with people. After a couple hours we headed back to our room and slept a little.
We awoke in time for the $13 CD all-you-can-eat breakfast buffet and spent more than an hour enjoying the excellent selection of food, which tasted particularly good after a week of camp cooking. We checked out around noon and drove away in a light rain, south to the border and down US 87 to Troy, then home at 5:30 with a little sunshine coming through breaks in the clouds. Soon the gear was cleaned and packed away and I was working 45 or 50-hour weeks again. Still, the familiar lakes remain frozen in my memory and my photo album, quietly urging me to return.
---